There was a palpable sense of disappointment in the Lion City Sailors dressing room in the immediate aftermath of their 4-1 defeat to Urawa Red Diamonds in the Asian Football Confederation Champions League (ACL) on Friday evening (15 April).
Yes, not many had expected the Sailors – making their debut in the ACL – to come away with anything against the Japanese giants, who have won the region's premier competition twice before.
But it stung. 
With the reigning Singapore Premier League (SPL) champions set to play Daegu FC on Monday (18 April) evening, Sailors head coach Kim Do-Hoon knows it is imperative his players pick themselves up quickly, and be ready to do battle on the pitch once more.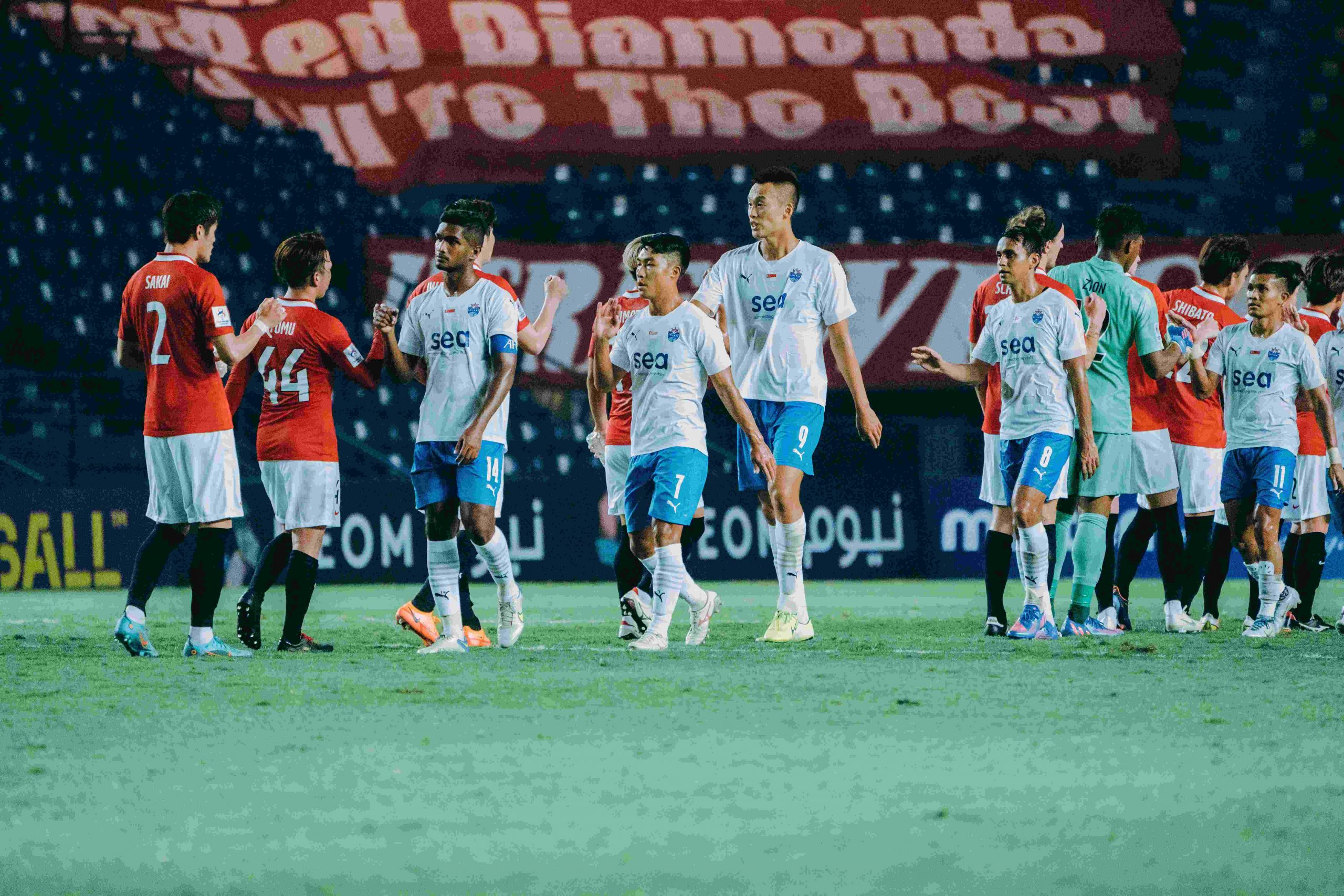 "Some players were definitely feeling a little down after the defeat to Urawa, and the whole team was not happy after the game," Kim candidly revealed. "But I emphasised to them that what has happened has happened – let's leave it in the past.
"We've got another important game coming up, so we just have to stay focused on that. We cannot let the defeat to Urawa affect us negatively. Let's bring the spirit up and change the atmosphere of the dressing room, and go again on Monday."
Daegu, however, will be no less tricky an opponent than Urawa, with the South Korean outfit coming into the game fresh off a 7-0 drubbing of Shandong Taishan.
Having come up against Daegu multiple times, both in his playing and managerial career, Kim is well-aware of the quality that the 2018 Korean FA Cup winners possess.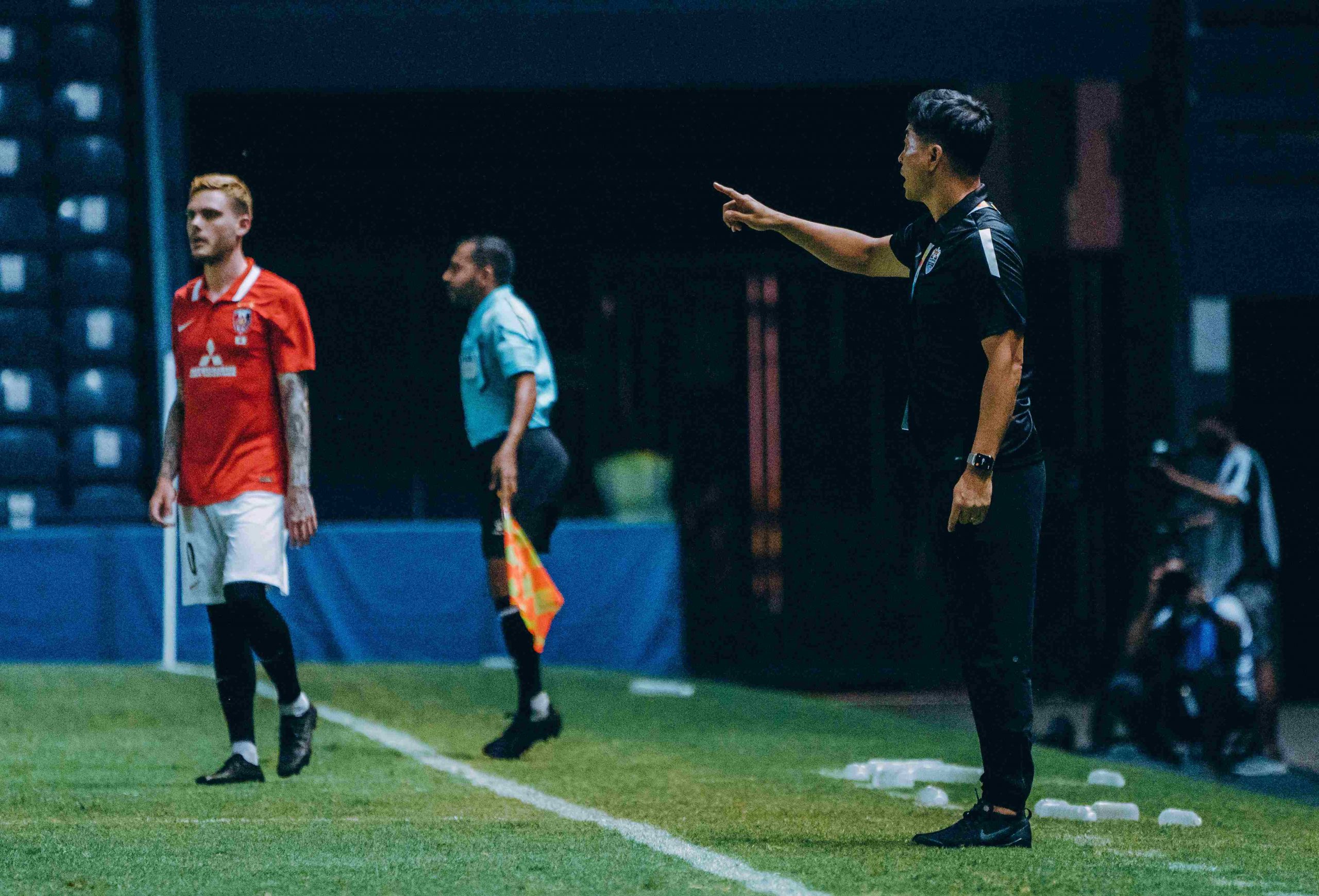 "I do know Daegu better than I do Urawa or Shandong, so maybe it can help us in that sense, because I can share more information with the players," Kim said. "They've been playing with the same style of football for many years now, and I don't expect them to change too many things. 
"Yes, Daegu scored seven goals against Shandong, but it's not about what they did in the last game. What's important is how we play against them, and what we're going to do on the pitch as a group."
When asked if he had a strategy to counter the undeniable threat posed by Daegu, Kim admitted that he had several game plans in mind.
One thing is for sure – the Sailors will not simply look to defend against Daegu.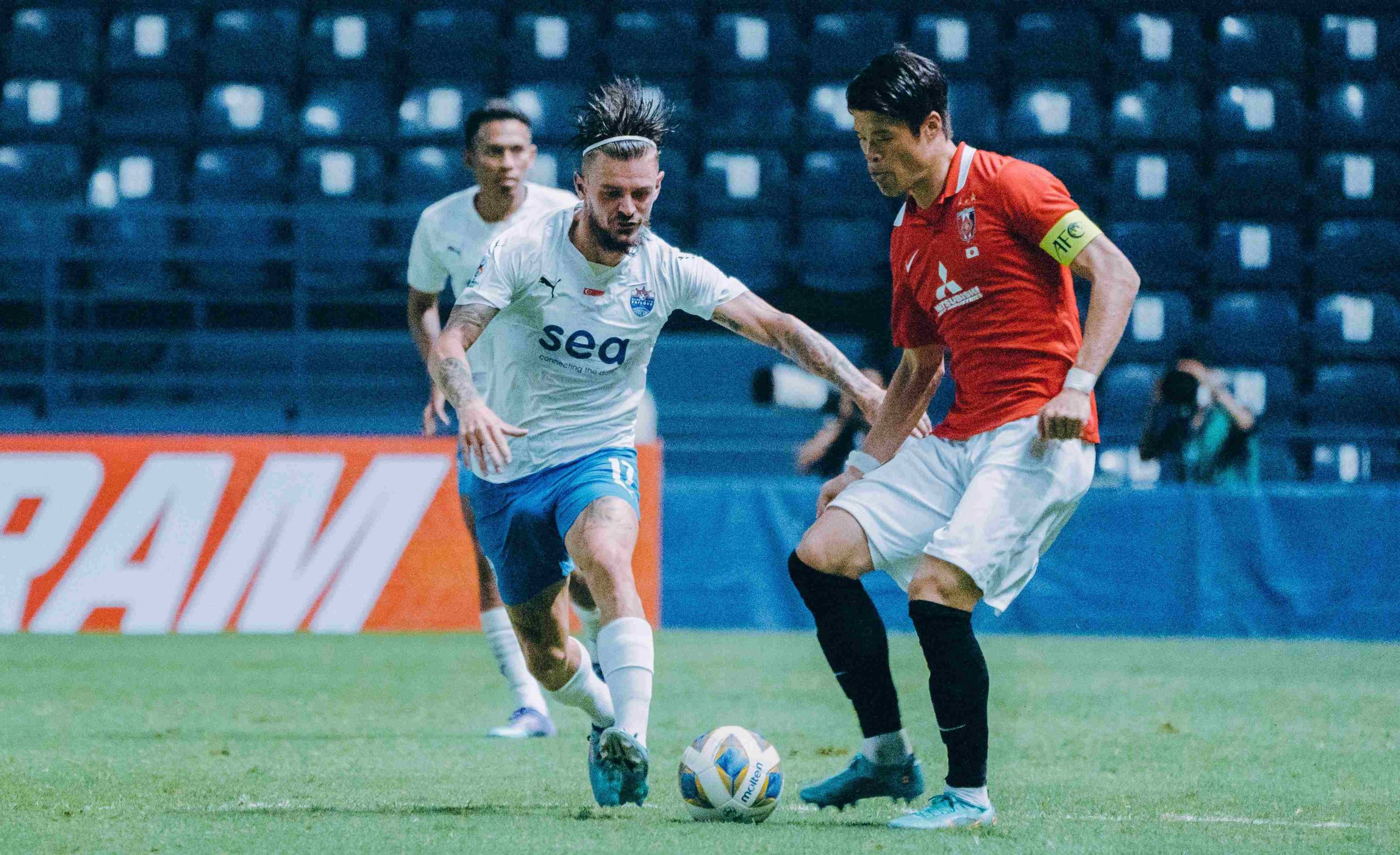 "There are various plans in my coaching book that I've prepared for the ACL," Kim mused. "I know the effect that conceding a goal can have on my boys and the team, but obviously, our idea is not just to park the bus and defend throughout the whole game.
"We need to attack, we need to score that goal, we need to put the ball in the net. But we have to wait for the right time to create that chance to score. More importantly, we have to be more competitive, and come into the game with a better mindset."
Agreeing, Sailors' deep-lying playmaker Shahdan Sulaiman added that the team will try to take the game to Daegu, as he said: "I think we need to be more proactive. Instead of waiting, we should try and test ourselves and match these teams, player to player. Let's go out there and see where we stand.
"We showed in the second-half against Urawa that we can compete, so now we've just got to start doing that earlier in the game, not when we're already down by a few goals.
"But at the same time, we can't be naïve and play too openly, because they (Daegu) have the ability to hurt us. We have to play it smart, and hopefully we'll be able to put on a much improved performance."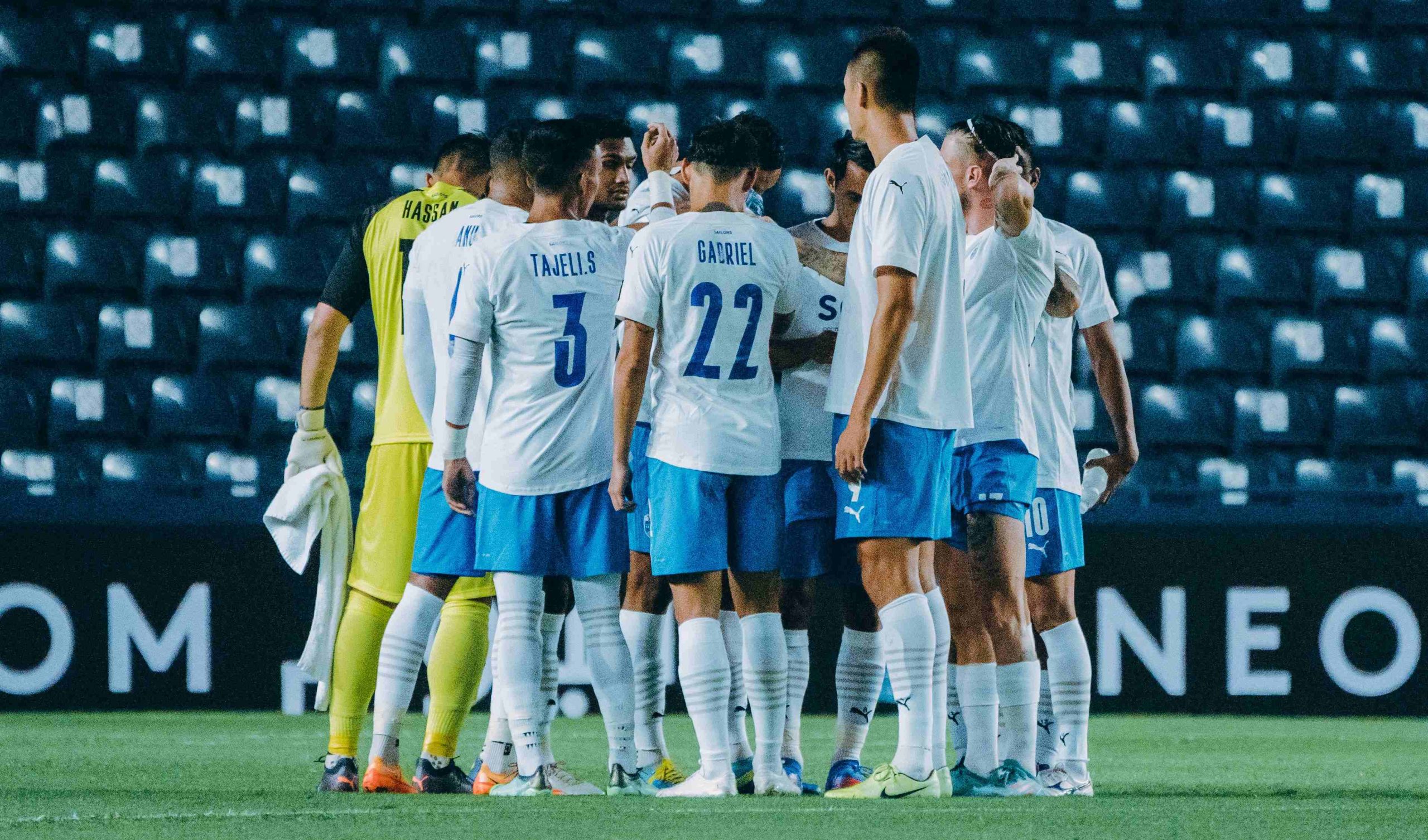 The Lion City Sailors put in a brave performance to mark their Asian Football Confederation Champions League (ACL) debut, but were still beaten 4-1 by Japanese powerhouse Urawa Red Diamonds at Buriram's Thunder Castle on Friday night (15 April). 
Up against the two-time ACL champions who reached the tournament's final as recently as in 2017 and 2019, Kim Do-hoon's men battled hard and even enjoyed a few good moments, but Urawa's pace and panache proved to be the key difference. 
Speaking at the post-match press conference, Kim lauded his players' efforts while acknowledging they were not their usual selves.
"Obviously, this being our maiden tournament, there was a bit of nervousness amongst the boys. Before we came to the stadium tonight, I told them let's not give ourselves pressure and just go out and play, but that's not easy because after all this is the highest tier of competition any player in Asia can compete in," said the 51-year-old, who led Ulsan Hyundai to the 2020 ACL title.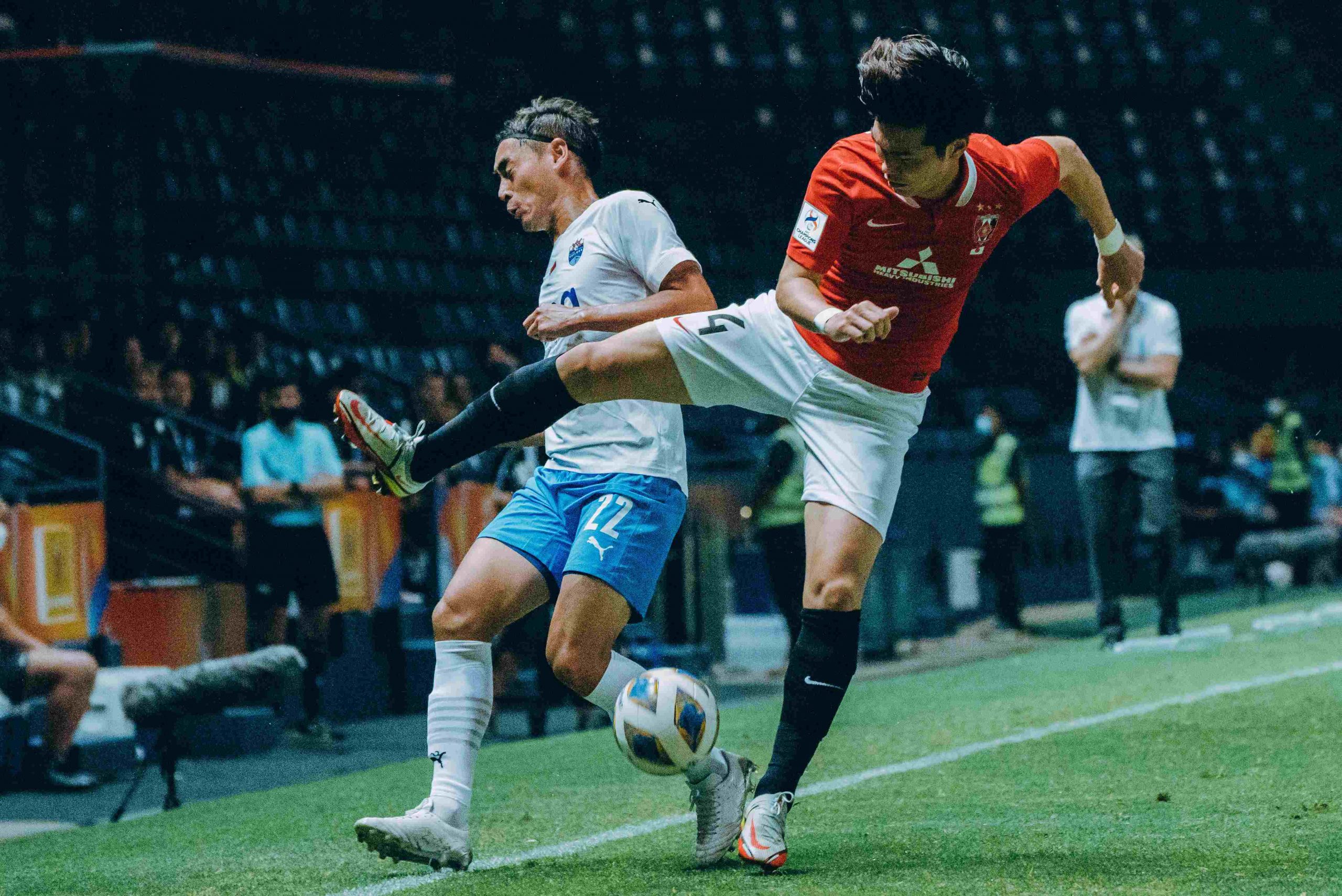 "I could feel the nervous energy from the team even from the bench, but I have to say a big thank you to my boys who didn't give up. As a coach, you want your players to give everything on the pitch and that's exactly what they did tonight and I'm very proud of them." 
Having made it clear that the Sailors are not here for holiday, Kim put out a strong and attack-minded eleven with fleet-footed wingers Maxime Lestienne and Gabriel Quak flanking Brazilian playmaker Diego Lopes behind two-time ACL winner Kim Shin-wook. 
The reigning SPL champions got off to a positive start, with captain Hariss Harun – one of only two Sailors, along with Shin-wook, with ACL experience – winning a series of aerial duels to set the tone as the Sailors pushed forward to threaten the Red Devils. 
The Sailors could have taken the lead seven minutes into the game through a well-worked move that started from the back, but Gabriel could only volley over from Maxime's teasing left-wing delivery. 
Urawa were much more clinical, finding the breakthrough just a minute later with Danish forward and 2020 Norwegian league top scorer, Kasper Junker, ghosting into the penalty area to score with a brilliant angled header off Ataru Esaka's cross.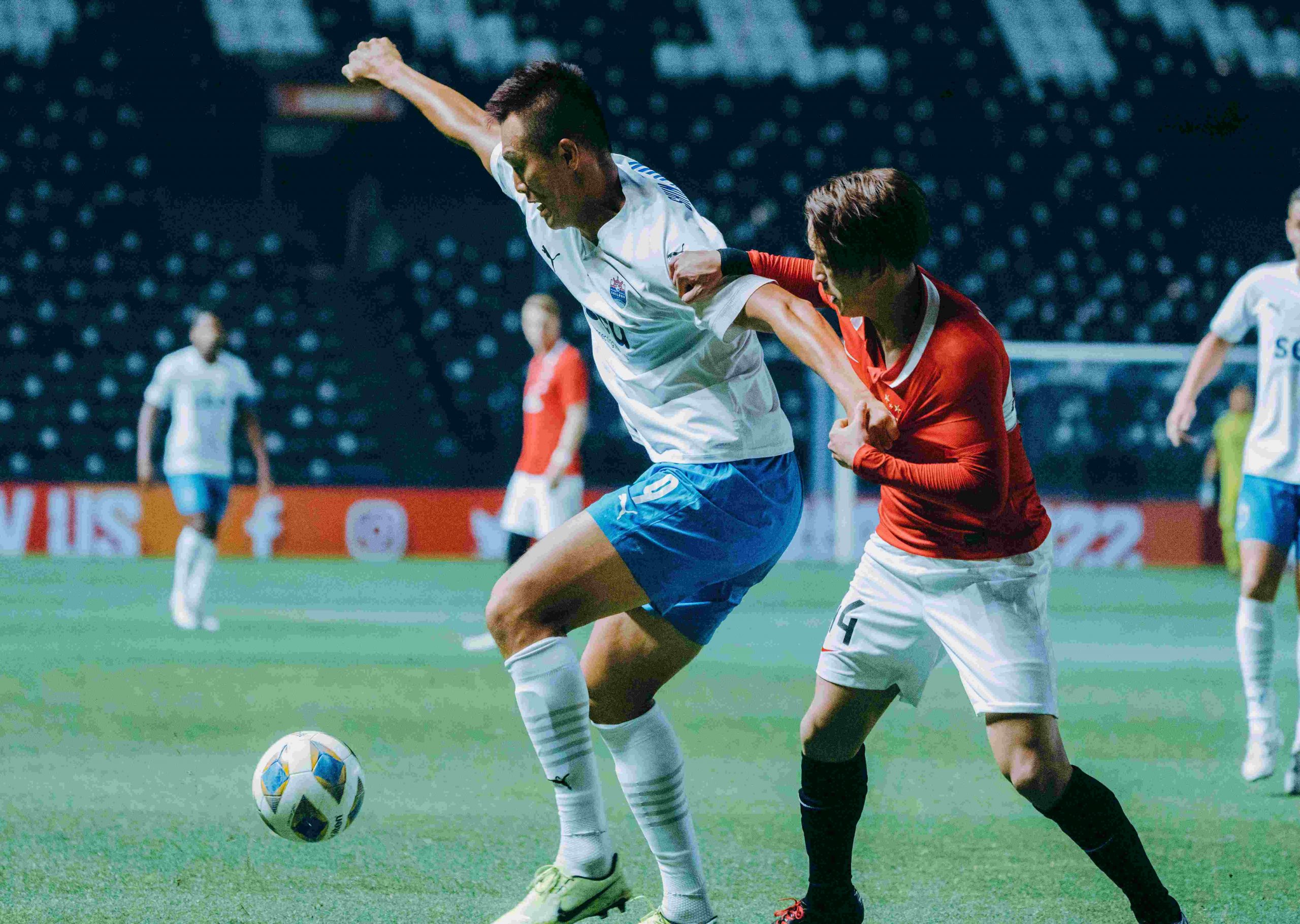 Sailors goalkeeper Hassan Sunny stood up strong to deny a goal-bound Esaka header in the 11th minute, but there was no stopping the Japanese international four minutes later. Esaka doubled Urawa's lead, side-footing home after being teed up by Yusuke Matsuo. 
Kim switched things up midway through the first half with Hafiz Nor replacing Gabriel down the right, but Japan's Emperor's Cup holders continued their dominance, scoring a third on 42 minutes through a wonderfully-executed David Moberg Karlsson volley that went in off the post. 
The former Swedish international would, however, gift the Sailors their first ACL goal just a minute later. Under pressure from Maxime, Karlsson over-hit a backpass that flew past a bemused Zion Suzuki in the Urawa goal.
That goal gave the handful of travelling Sailors fans something to cheer about going into the break.  
But Urawa restored their three-goal advantage just 45 seconds after the restart with Atsuki Ito squaring across the six-yard box for Matsuo to tap into an empty net. It was hardly an ideal start to the second half, but the Sailors would grow into the game from then on going toe-to-toe with the Japanese giants. 
Maxime – one of Sailors' best performers on the night – went on a few good runs down the left and almost set up a goal for Shin-wook in the 54th minute, but the South Korean was denied a goal on his 53rd ACL appearance as his speculative left-footed drive from range was tipped over the bar.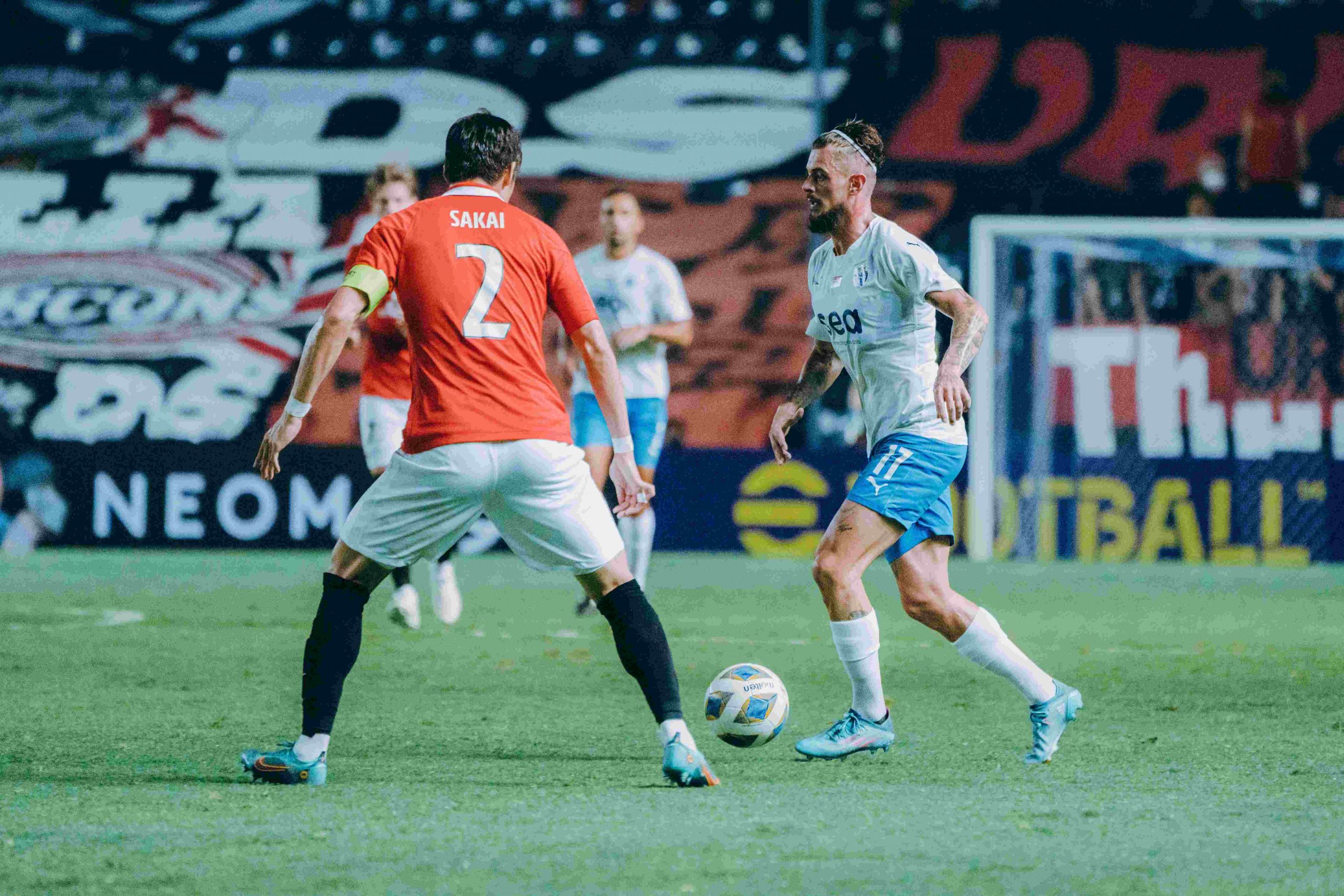 Maxime then earned a free kick off experienced Japanese right-back Hiroki Sakai, before coming off for what looked like a hamstring injury in the 74th minute.  
Hafiz's well-struck effort from the resulting freekick stung the palms of Urawa goalkeeper, Suzuki. 
Kim then threw on Nur Adam Abdullah and Song Uiyoung from the bench, as the Sailors battled to the final whistle of their ACL debut that was full of both lessons and positives to take forward. 
Next up on Monday (18 April) is a clash against 2021 K League 1 second runners-up Daegu FC, who thrashed China's Shandong Taishan 7-0 in Group F's opening fixture yesterday (15 April).
"In the second half, we kept our heads up, were more relaxed, and showed that we can play football. That's something we need to keep working on in this campaign. 
"The reality is clear – the level is different – and we accept that, but the gap's definitely going to be reduced through the five remaining group games," stressed Kim. 
"I want to give my greatest gratitude to the fans who travelled a long way to come here to support us and I want to assure all our fans that we'll try our best to get closer to the top teams in Asia while we're here."
They walked into Buriram's Thunder Castle earlier today, carrying the dreams of the Lion City Sailors on their shoulders as the club stands on the cusp of marking a major milestone. But Head Coach Kim Do-hoon and skipper Hariss Harun hardly drew any attention from onlookers.    
While there was little fanfare as the duo attended the pre-tournament press conference for the Asian Football Confederation Champions League (ACL), it was clear that the Sailors – underdogs in a Group F that features Urawa Red Diamonds, Daegu FC and Shandong Taishan – are not being taken lightly. 
"Their attacking style is very interesting for me," said Urawa Head Coach, Ricardo Rodriguez, speaking at Buriram United's Buriram Stadium home ground that is perhaps better known as Thunder Castle.
Urawa are the Sailors' first ACL opponents, with the teams facing off in the opening Group F fixture on Friday (15 April) at 10pm (Singapore time).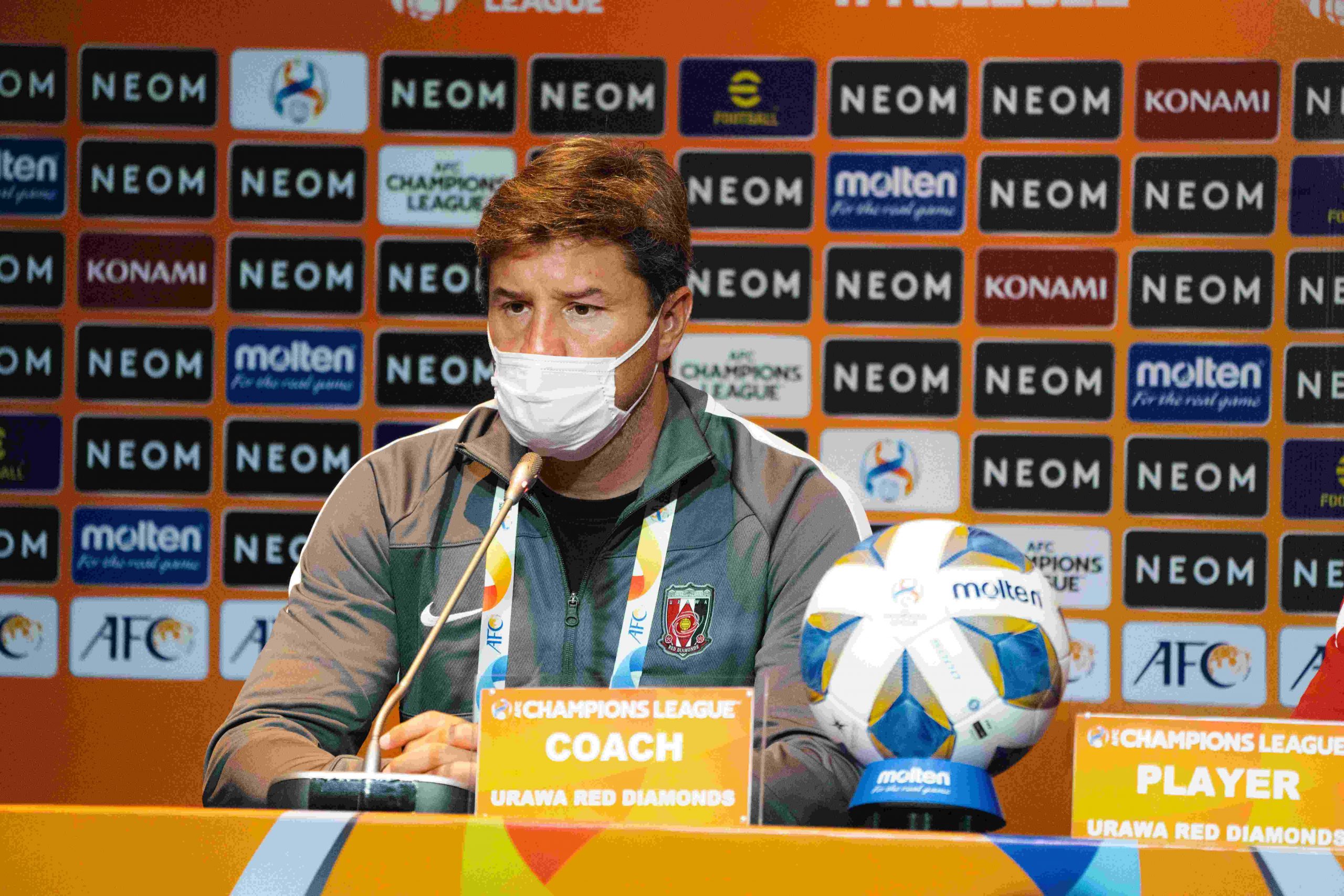 "They have a good target player in the team, and in their local league, they are very superior in comparison to the other teams. I think the Sailors have a very clear style, playing in 4-3-3," added the 48-year-old Spaniard who is into his second year leading the defending Emperor's Cup champions. 
Rodriguez was acutely aware of the importance of this opening game – especially in an ACL group stage that is played in a campaign format with the teams playing a match every three days – and his captain, veteran goalkeeper Shusaku Nishikawa, made the Japanese side's intentions very clear. 
"We are a good team; we came to Buriram with confidence, and we are playing to win this game (against the Sailors)," he said. 
The Sailors have their work cut out for them, facing Daegu FC just three days after Urawa, on 18 April. 
Head Coach of the Korean side, Alexandre Gama, was wary of the threat posed by the Sailors' Korean connection – Kim Do-hoon, and forward Kim Shin-wook.
"They are a very strong team, have invested so much (in the team), and have a good coach who knows Korean teams very well – that is one big advantage (for the Sailors)," said the 54-year-old who is familiar with the Sailors Brazilian pair, Diego Lopes and Pedro Henrique.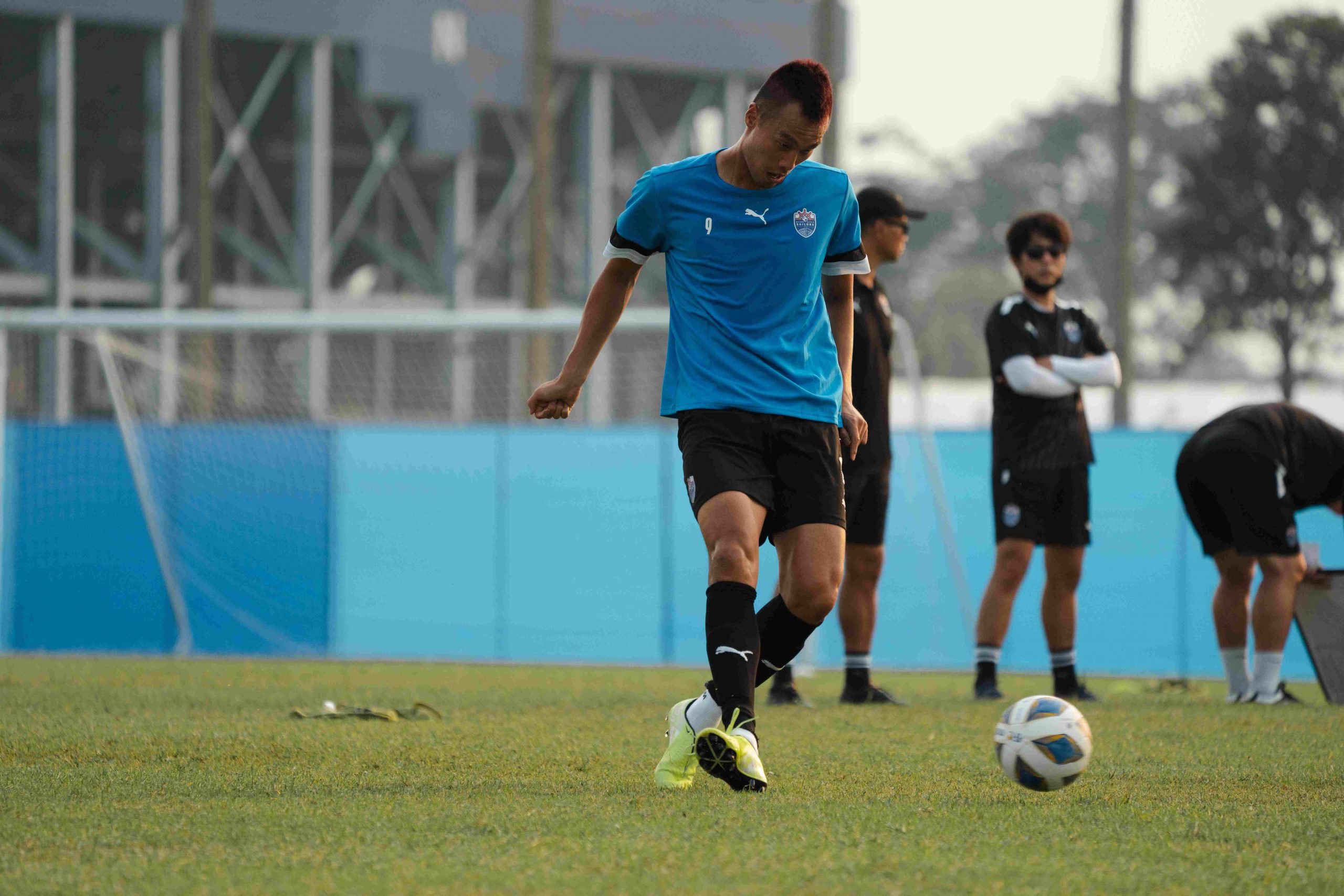 But it was perhaps the attacking threat of Shin-wook that Gama understands most deeply, having worked with the 1.98m front man during his time as assistant coach of the South Korea national team in 2011. 
"(The Sailors) have a good Korean striker – he was my striker before in the national team – and he's a very good striker," he said. 
Gama's approach to Group F matches perhaps sums up the challenge that lies ahead of Kim Do-hoon, Hariss and company, as the Sailors take their first steps into the ACL, Asian football's biggest stage. 
"This is not an easy group to play in," said Gama. 
"Every match is a cup final for us – this is the mentality I want in my team." 
His driving runs and insatiable energy down the left flank have been a constant feature domestically, culminating in team and personal triumphs in 2021 – the Lion City Sailors' first-ever Singapore Premier League (SPL) title and a Young Player of the Year (YPOTY) gong. 
But Nur Adam Abdullah is not satisfied – he is out to test his ability against Asia's cream of the crop as the Sailors embark on their maiden Asian Football Confederation Champions League (ACL) campaign this week. 
Ever since the team confirmed qualification to the 2022 ACL at the end of last season, his mind has never strayed away from making his mark on the continent's biggest club competition. Even an unfortunate pre-season medial collateral ligament (MCL) injury in February did nothing to quell his ambitions. 
"I wasn't too worried after Kak-Fizah (Sailors' Head of Physiotherapy, Nurhafizah Abu Sujad) briefed me about the duration of recovery, and the thought of playing in the ACL was a big driving force for me to come back stronger. The key was just to get some playing time and match fitness back before the competition," said the defender who turns 21 today (13 April).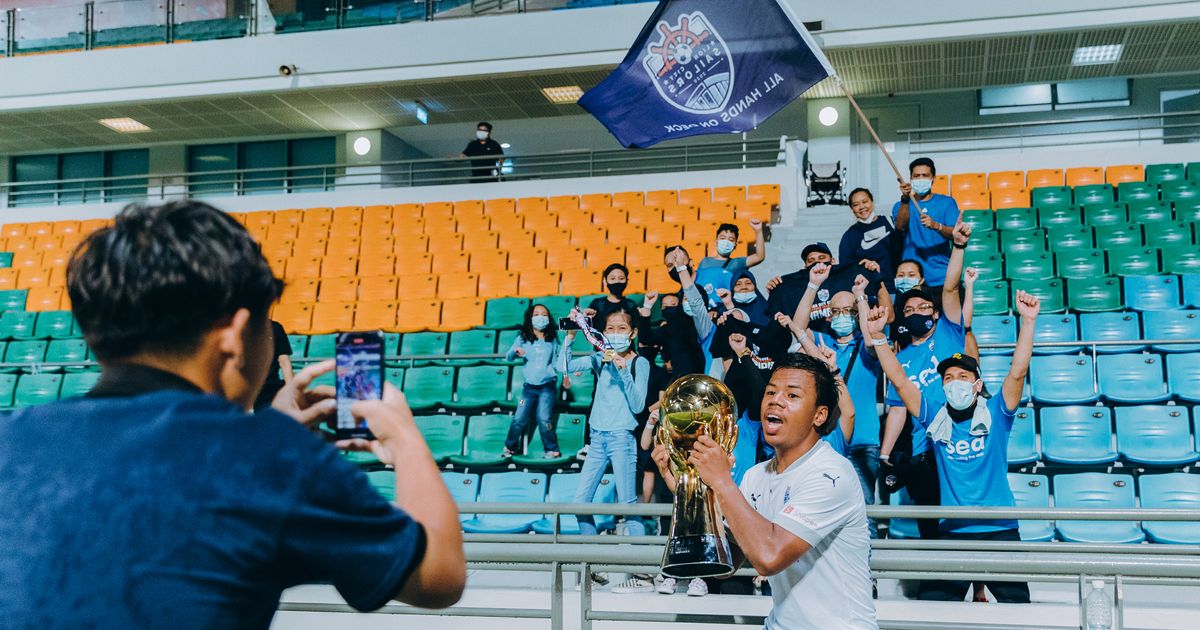 Nur Adam has since recovered quickly with the help of the Sailors' medical department, getting a couple of SPL games under his belt, and is set to make a splash on the continental stage where the Sailors are placed in Group F with powerhouses from Japan, Korea and China. 
The young full-back is most looking forward to the matches against Urawa Red Diamonds, and possibly a duel against seasoned Japanese international, Hiroki Sakai, down the Sailors' left flank. 
"Sakai's a top player who has played in Europe and at World Cups. I know he was out injured (at end March), but I really hope he can come back in time so that I can test myself by playing against such top players to see the level I'm at and improve," he said. 
Nur Adam has already had a taste of Japanese football, having gone on training stints with J-League clubs Matsumoto Yamaga and Omiya Ardija in 2015 and 2017 respectively, and he was left impressed by the strong work ethic and technical ability. 
A constant in Singapore's national age-group squads, the 2018 Dollah Kassim Award winner's career has gone from strength to strength, and he capped off an amazing 2021 by making his competitive debut for the Lions at the AFF Suzuki Cup.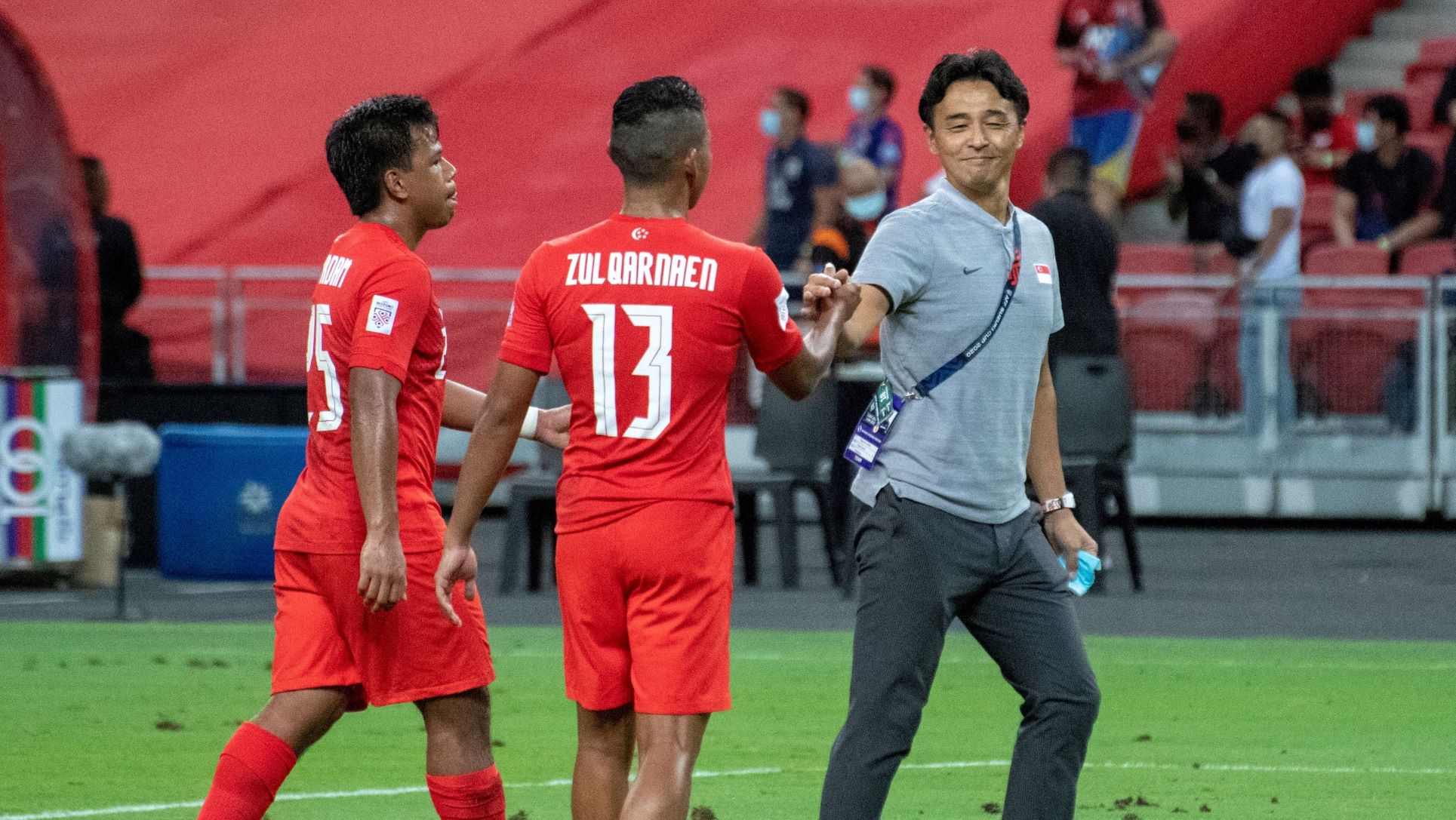 The tenacious Nur Adam has always set his sights high – he holds ambitions of becoming one of Southeast Asia's top full-backs and knows the ACL is the perfect platform to propel his football, and his career, to the next level. 
"I want to be the best in my position, just like any other player. People are starting to notice me after the Suzuki Cup and I know there will be even more eyeballs on me – and us – at the ACL. It's an opportunity for me to show that although I'm still young, I have the ability to compete and perform at this level," said a deadpan Nur Adam. 
But he is acutely aware that the ACL is a whole different ball game. 
He has done a bit of homework, getting advice from his good friend Ryaan Sanizal, who played in last season's competition with Tampines Rovers, as well as Sailors teammate Diego Lopes, who played in the UEFA Europa League with Portuguese club Rio Ave.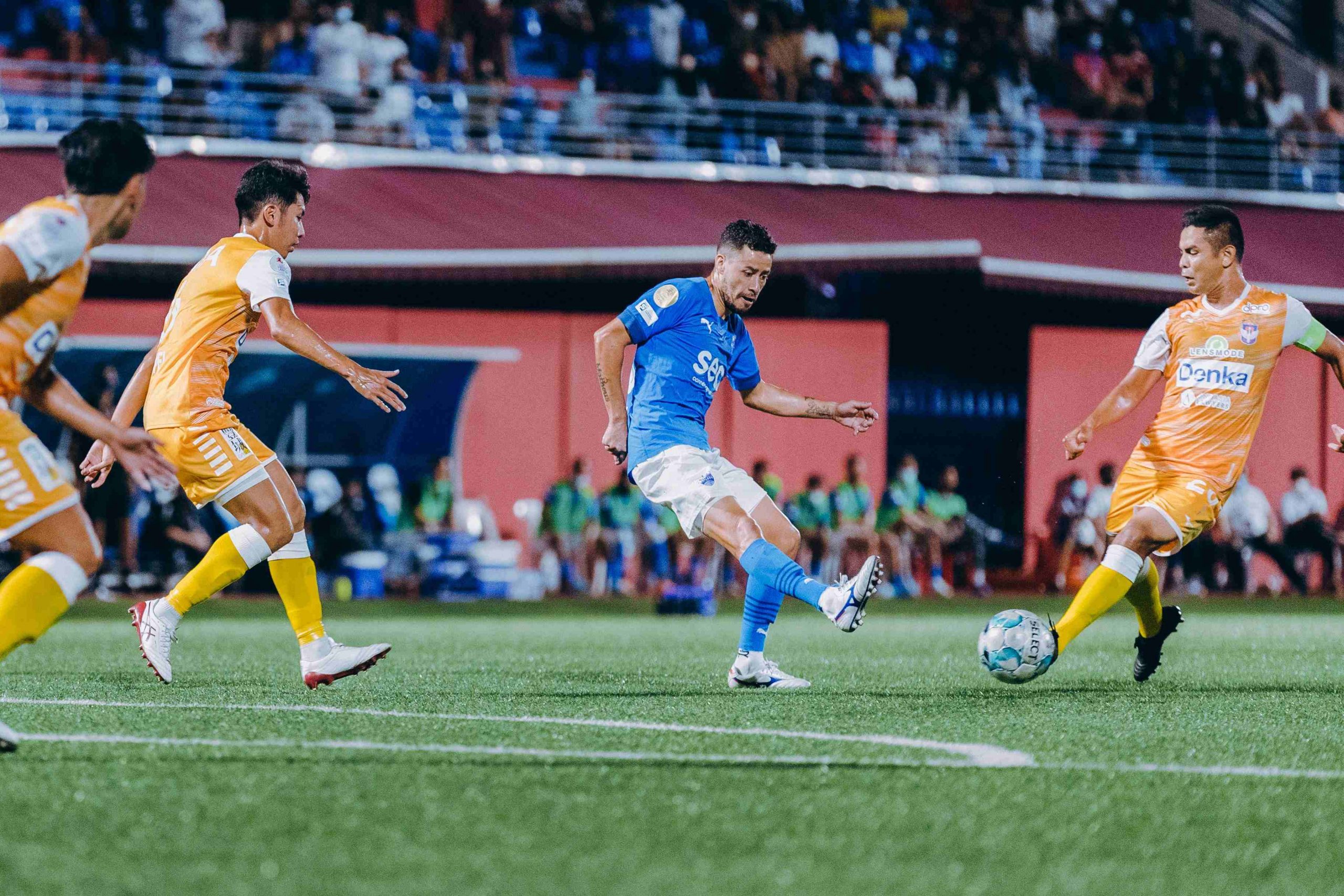 "I watched most of Tampines' ACL games – honestly they played some beautiful football, but were punished by some small mistakes. In SPL, we can still get away with those, but against high-quality opponents in the ACL, boom and it's gone! Ryaan and I spoke and agreed – it's definitely a game of concentration and trying to minimise mistakes." analyzed Nur Adam. 
"Coach Kim Do-hoon has also emphasised the small details – not to do this or that because we will bring these mistakes or habits into the ACL, and will be punished. 
"Diego also shared with us that at this level, we have to play smart. It's not so much about running up and down, instead we should play one or two touches, get some quick passes and combination plays going, to break through opposition defences."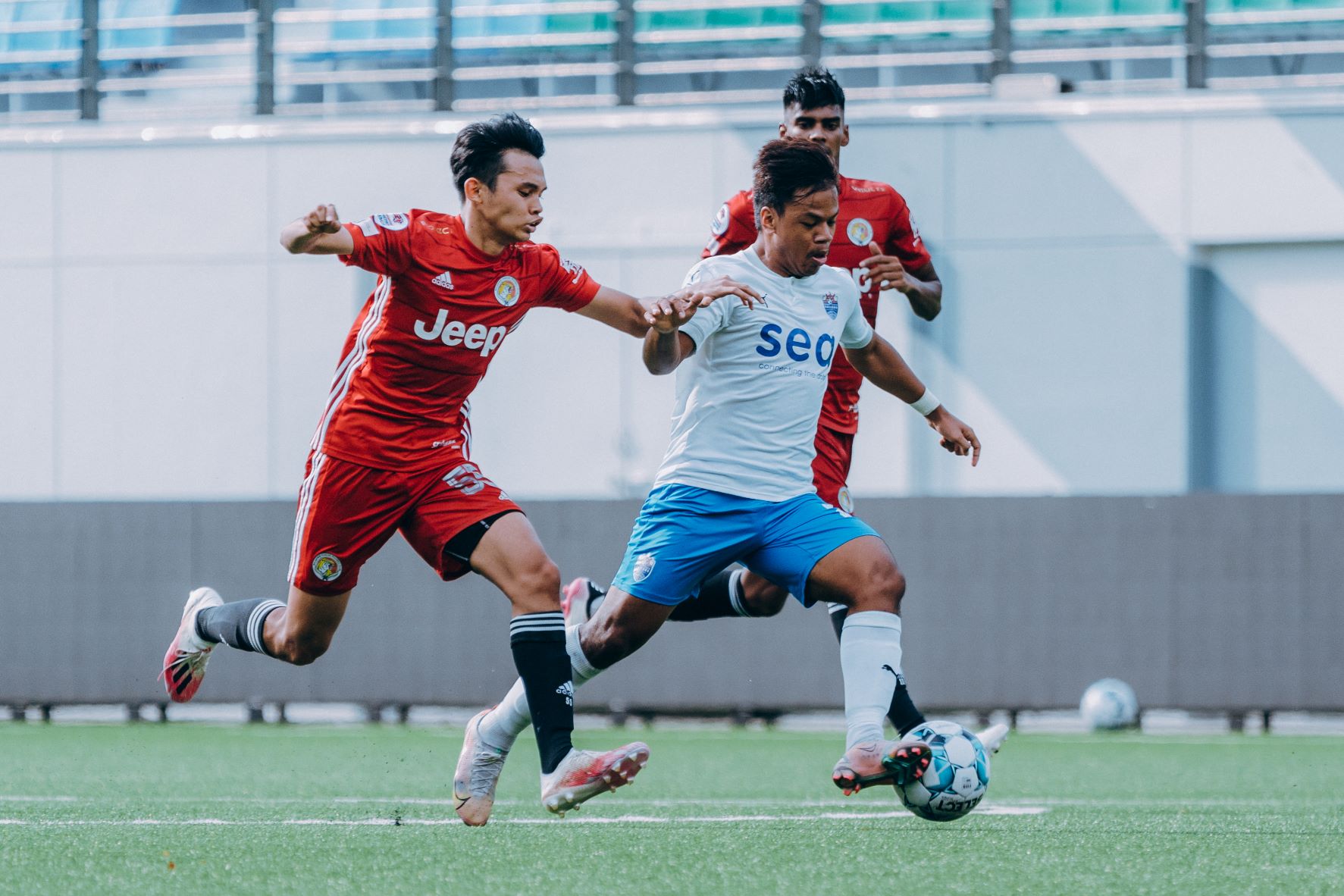 Six games played over 15 days in the Ramadan period will be a real test of resolve of the Muslim players in the Sailors' ranks, but Nur Adam believes it is not an excuse for the Sailors not to perform at the ACL. 
"If top players like Paul Pogba and Mo Salah can fast and still perform, there should be no excuses for us. It's all in the mind and I believe we can cope with it," he said. 
Nur Adam knows the bigger issue of national pride intertwined with the Sailors' performances in the ACL and has already set a personal goal for himself.  
"We're representing Singapore, so our results in the competition matters to the image of our country's football. So we have to go out there and give a good account of ourselves to show why we deserve that spot in the ACL," he elaborated. 
"I've been working very hard to improve my all-round game, and I'm aiming for at least one assist, hopefully for (Kim) Shin-wook to score!" 
It has been a meteoric rise for the Lion City Sailors since their official inception in 2020.
From making history as the first privatised football club in Singapore, to smashing the Singapore Premier League (SPL) transfer record with the purchase of Diego Lopes, then winning the SPL title in 2021, the Sailors have gone from strength to strength over the last two years.
The Sailors, however, will have their mettle well and truly tested later this month, when they take on their biggest challenge to date at the Asian Football Confederation Champions League (ACL). They will line up in Group F, alongside Japanese side Urawa Red Diamonds, South Korean outfit Daegu FC, and Shandong Taishan from China. 
This will be the first time that the club will be taking part in the ACL, where only Asia's top clubs play.
Club captain Hariss Harun is acutely aware of the significance of this milestone in the Sailors' ongoing quest to become a dominant team of the region.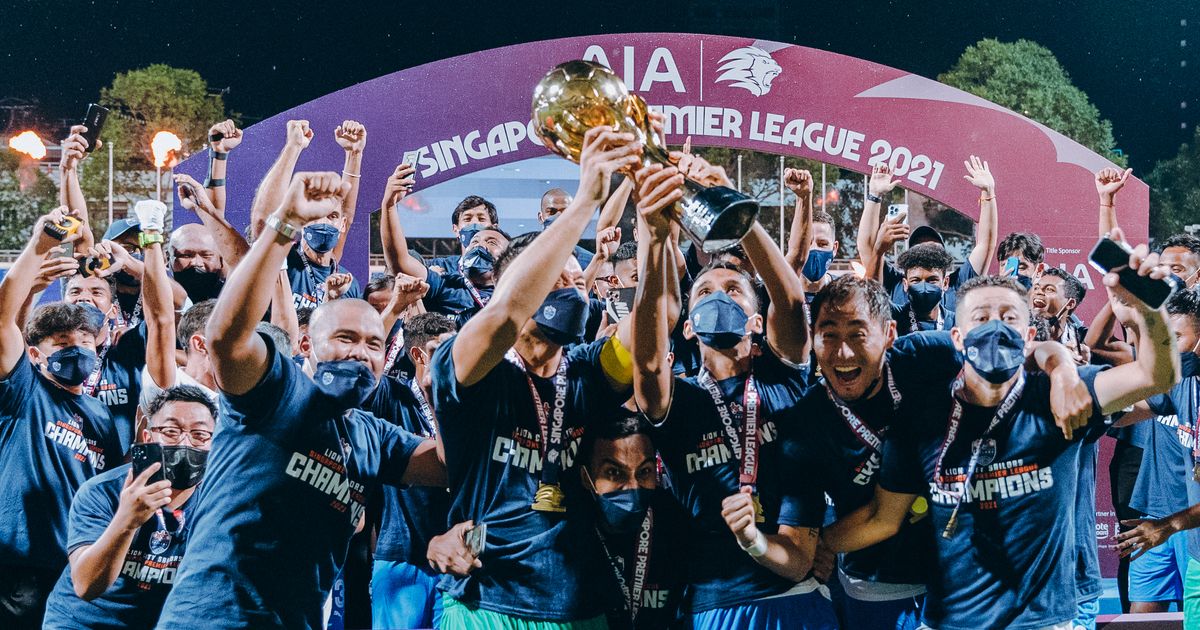 Hariss, who has experienced success on the continental stage with his 2015 AFC Cup triumph in Johor Darul Ta'zim colours, said: "This is the premier club competition in Asia, featuring top players from Asian footballing powerhouses like Japan, Korea, and Australia, so it's a great honour for us to be involved as a club and representing Singapore.
"I've always believed that it's important for us to play in the ACL if we want to grow the club as a whole. Only by playing in such a prestigious competition can you make a name for yourself on the continent. 
"This is also a good chance to find out where we stand against the best teams in the region."
In preparation for the ACL this year, the Sailors invested in strengthening their squad with top-quality players, including foreign stars Maxime Lestienne, Pedro Henrique, Kim Shin-Wook, and Singapore internationals, M. Anumanthan and Izwan Mahbud.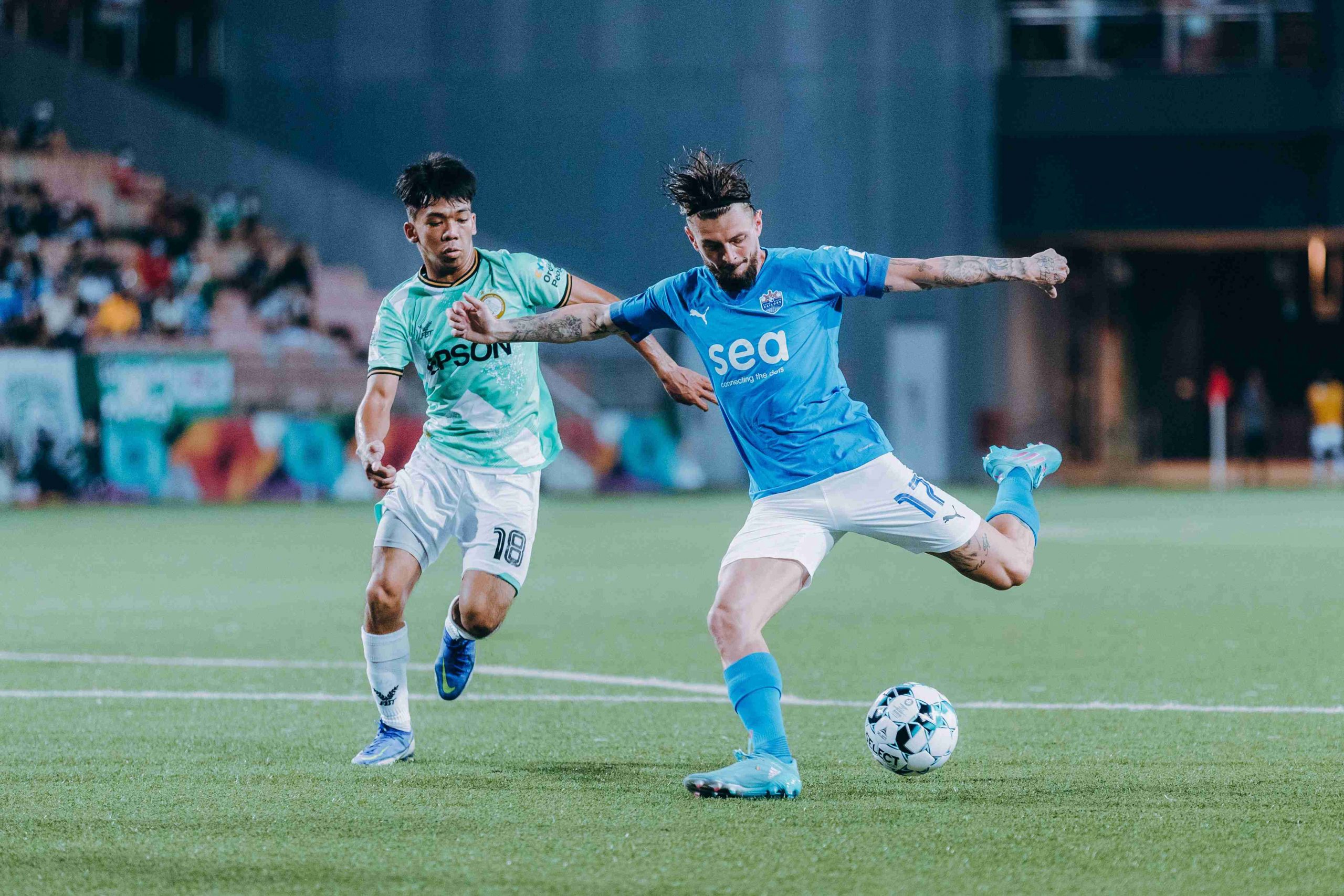 The former three have experience playing at the highest level – Maxime has played in the UEFA Champions League, and, like Pedro, has also featured in the Europa League, while Shin-wook is a two-time ACL winner.
Hariss believes these new signings will go a long way in helping the Sailors cope with the demands of the competition. 
In particular, the 31-year-old hailed Shin-wook as the key to the Sailors' ACL campaign, saying: "Shin-wook is a natural goal-scorer. As you can see from the first few games, if you give him the ball where he wants it, he's going to finish it off.
"He's captained the South Korea National Team, played in World Cups, played and won in ACL finals, so he comes with a lot of experience at a very high level. I have no doubt he's going to be instrumental for us in the ACL."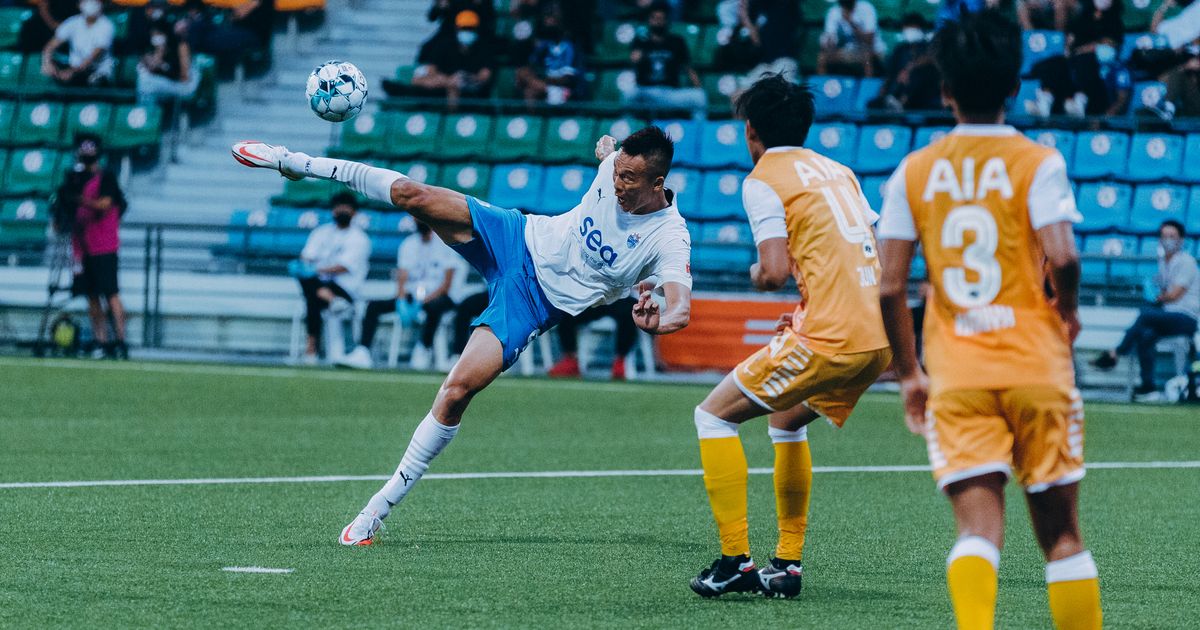 While acknowledging the enormity of the task ahead, Hariss is quietly optimistic that the Sailors can spring a surprise or two in the competition.
At the very least, the Lions' skipper wants the Sailors to prove themselves worthy of their spot alongside Asia's best. 
He said: "Personally, the best gauge of success is when people watch our games, they recognise that we belong at this level. So we have to go out there to compete, and not be cowed by the opposition.
"All the players are excited to test ourselves against some of the best in the region, and we're going to try to play our game. We've worked hard in pre-season specifically with the ACL in mind, and I think we're ready for what's to come."
When asked how many points he was hoping the Sailors could garner in the group stage, Hariss joked: "The target is 18 points, of course! But really, it's about going out there to be competitive, and most importantly, enjoy our football, because that's when we'll tend to play at our best."
The Lion City Sailors will be making their first-ever appearance in the Asian Football Confederation Champions League (ACL) this year, but there are some among their number who are no strangers to the region's top-tier club competition – including a pair who have not only amassed experience playing and managing in the ACL, but have also won the competition itself: Sailors Head Coach Kim Do-Hoon and 33-year-old striker Kim Shin-wook.
The older Kim – whose name is already carved into the annals of ACL history as the first player to ever score a hat-trick in the competition in 2003 – coached South Korean side Ulsan Hyundai to the ACL title barely two years ago.
Shin-wook's achievements in the ACL are equally, if not more impressive. The deadly poacher has played 52 games in the competition so far, with 20 goals and 10 assists to his name, and crucially, has won the ACL title twice, with Ulsan Hyundai in 2012 and again in 2016, as part of Jeonbuk Hyundai Motors.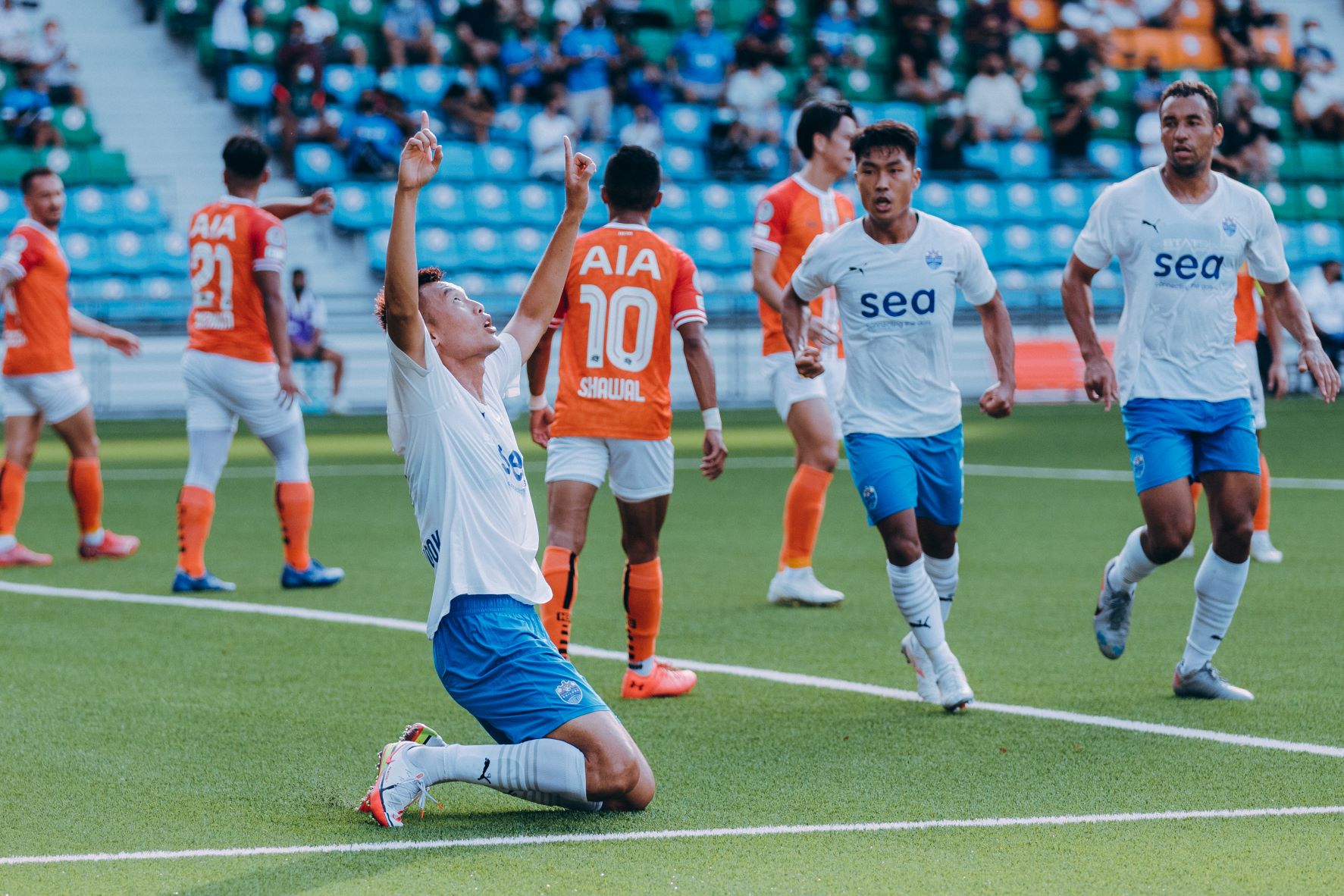 It is no surprise, then, that all eyes will be on the two Kims when the Sailors make their long-awaited appearance in the ACL later this month.
Despite their familiarity with the ACL, however, both Do-hoon and Shin-wook are expecting a vastly different experience in the tournament this time around.
Shin-wook said: "Each ACL campaign is already unique, but this year, playing for a new club, it's going to be completely different to what I've experienced in the competition with my previous teams."
Do-hoon is relishing the experience of being the man in charge of the Sailors for their first-ever ACL tournament, as he said: "I'm privileged and honoured to be able to lead this club in the ACL. It is the most prestigious  tournament in the region, and we are proud that we're not just representing the Sailors, but also Singapore.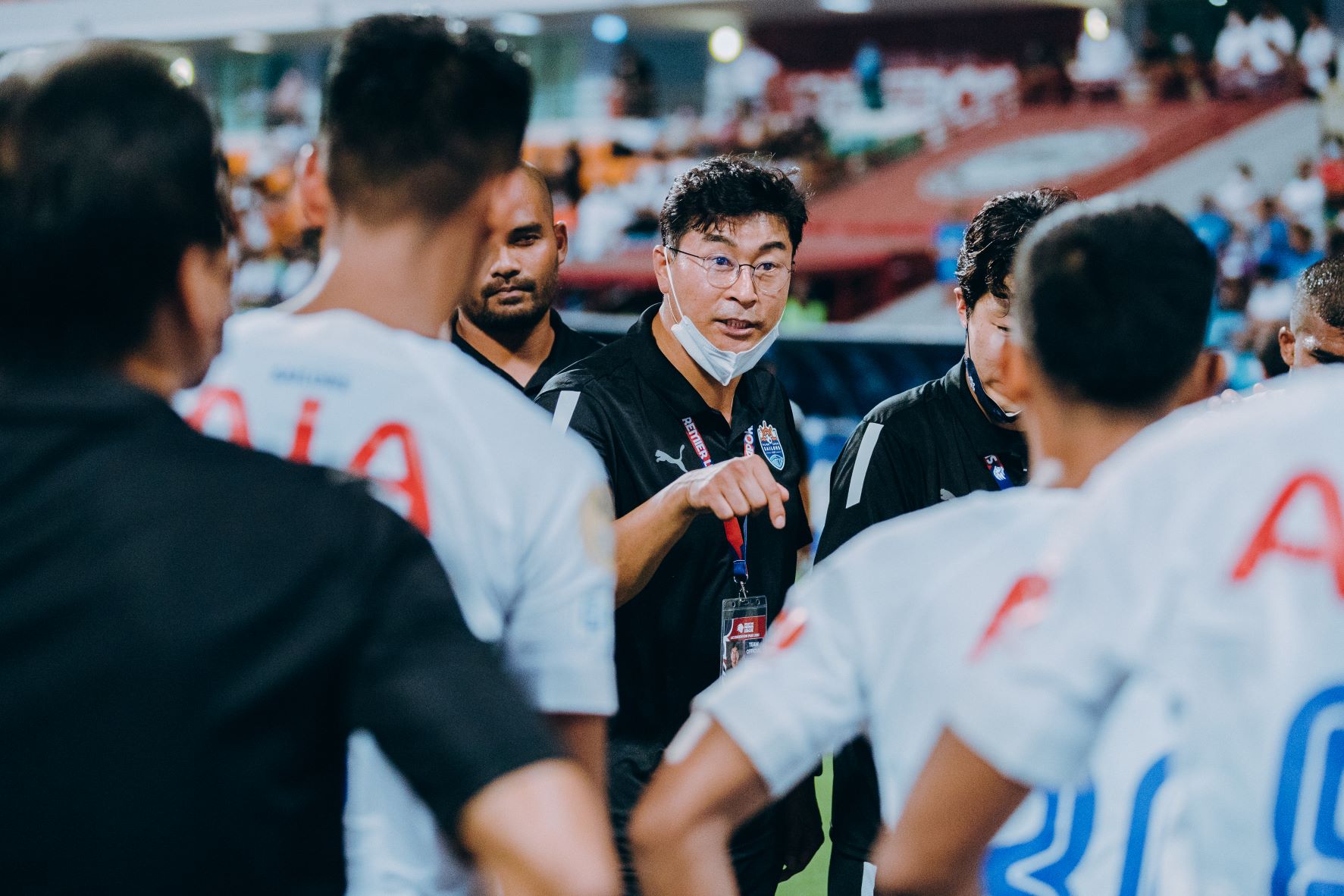 "I've played in the ACL as a player and led teams as a coach, so it is a tournament I'm familiar with. But each tournament, with different teams taking part, is a different experience, so I'm not taking anything for granted."
While there is a buzz around the club ahead of their ACL debut, Do-hoon emphasised the importance of staying grounded, and warned his players to brace themselves for difficult battles ahead.
"It's going to be tough," Do-hoon declared. "I want to be realistic, I don't want to be building any false hopes. 
"For starters, we want to score our first goal of the tournament. Then, we'll look to win our first points. More importantly, we want to play the Sailors way, and give our all until the final whistle.
"So I need to create the atmosphere, the environment for the players to help us stay focused and be ready for whatever challenges come our way."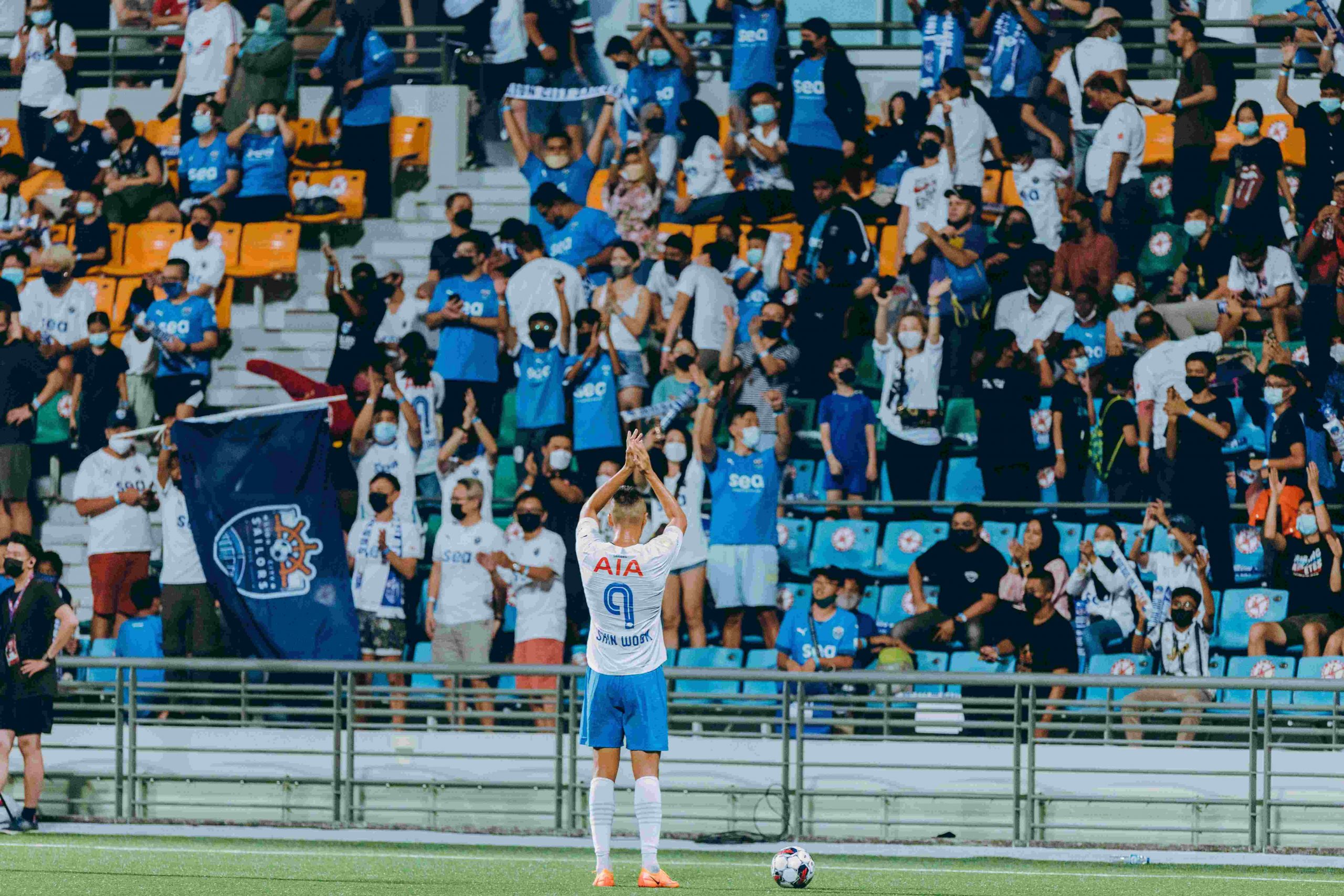 Agreeing, Shin-wook urged his team-mates to seize the moment, and go into every game ready to fight for every ball.
"We have to toughen up, and bring a strong will and aggression to every game," said the man who captained South Korea just last year. "Our opponents in the group have quality, so we will need to do our best to nullify their strengths. That is something that really made the difference when I was with Jeonbuk, and that is how we won the tournament.
"Every player will need to go into each match as if it's their last, and be prepared to give more than their 100 per cent. That is the key to success in the ACL."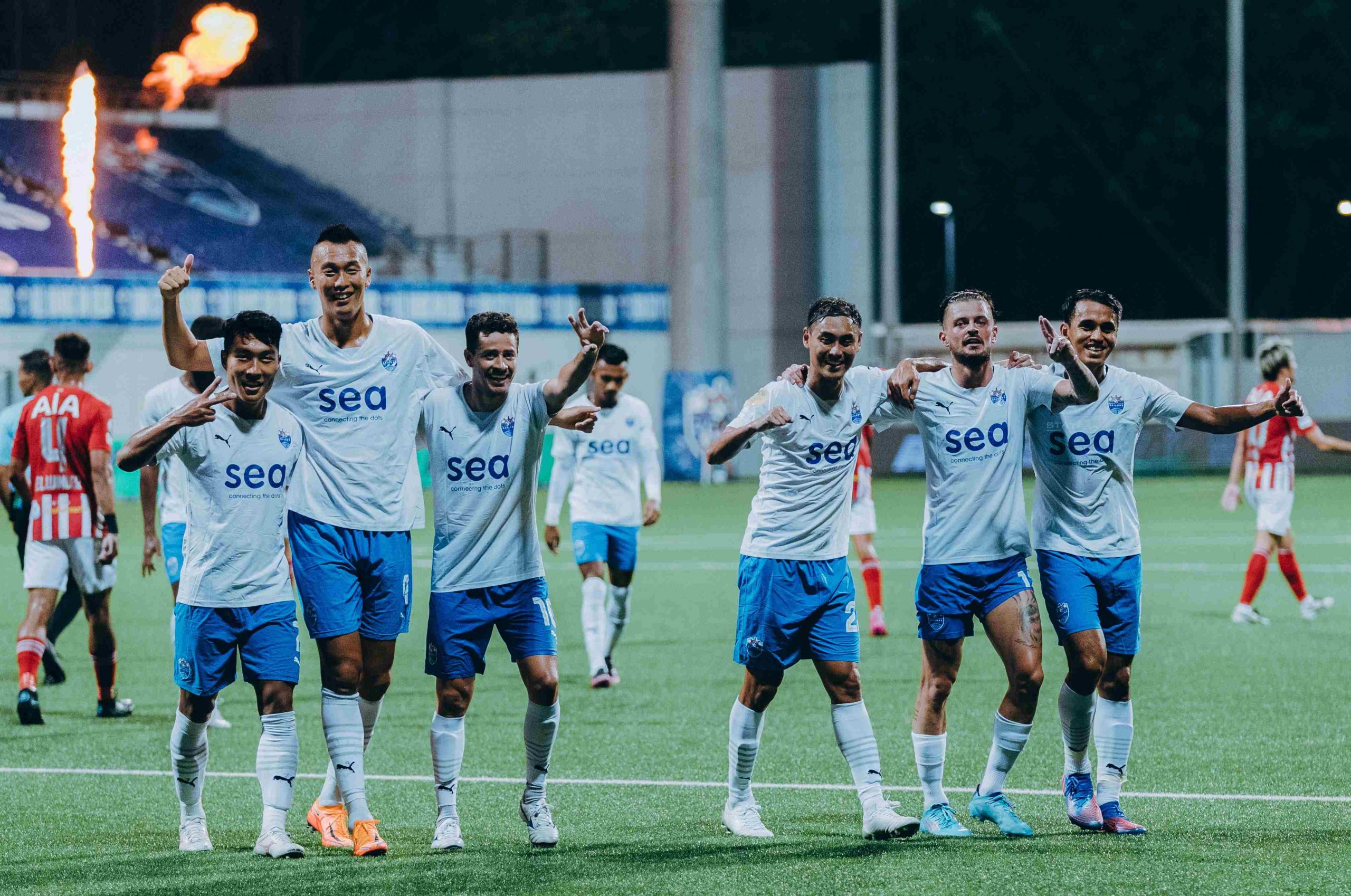 Ultimately, though, Do-hoon hopes his charges will be able to emerge from their maiden ACL campaign with their heads held high.
The 51-year-old mused: "There's every chance that some of our results might be difficult to take, but we'll just have to stay humble, keep working hard in training, and put out the best performance we can.
"We have to try and play our football, show who we are, and do the club, as well as Singapore football as a whole, proud.
"If we just stay focused and take things step-by-step, I'm sure we can pull off a surprise or two."
It was a dangerous test for the Lion City Sailors, coming up against the only unbeaten side in the Singapore Premier League (SPL), less than 48 hours before leaving for their maiden Asian Football Confederation (AFC) Champions League (ACL) campaign. 
But the defending champions showed up in scintillating fashion, convincingly beating Tanjong Pagar United 6-1 on Saturday night (9 April) at the Jalan Besar Stadium. 
Brazilian playmaker Diego Lopes at his mesmerising best as he set the Sailors on their way with a brace in the opening half-hour, before Belgian winger Maxime Lestienne came on at half time to chalk up two assists and his first-ever goal for the club. Shahdan Sulaiman, Kim Shin-wook and Hafiz Nor were the other scorers on a night to remember for the Sailors fans. 
Fans were treated to a captivating display by Diego who was a constant thorn in the Jaguars backline with his trickery and close control, and at times seemed unplayable. The 27-year-old has never felt more physically fit since he arrived in January 2021 and he believes he will get even better, in what appears perfect timing for the Sailors who depart for Buriram, Thailand, to face Asia's best on Monday.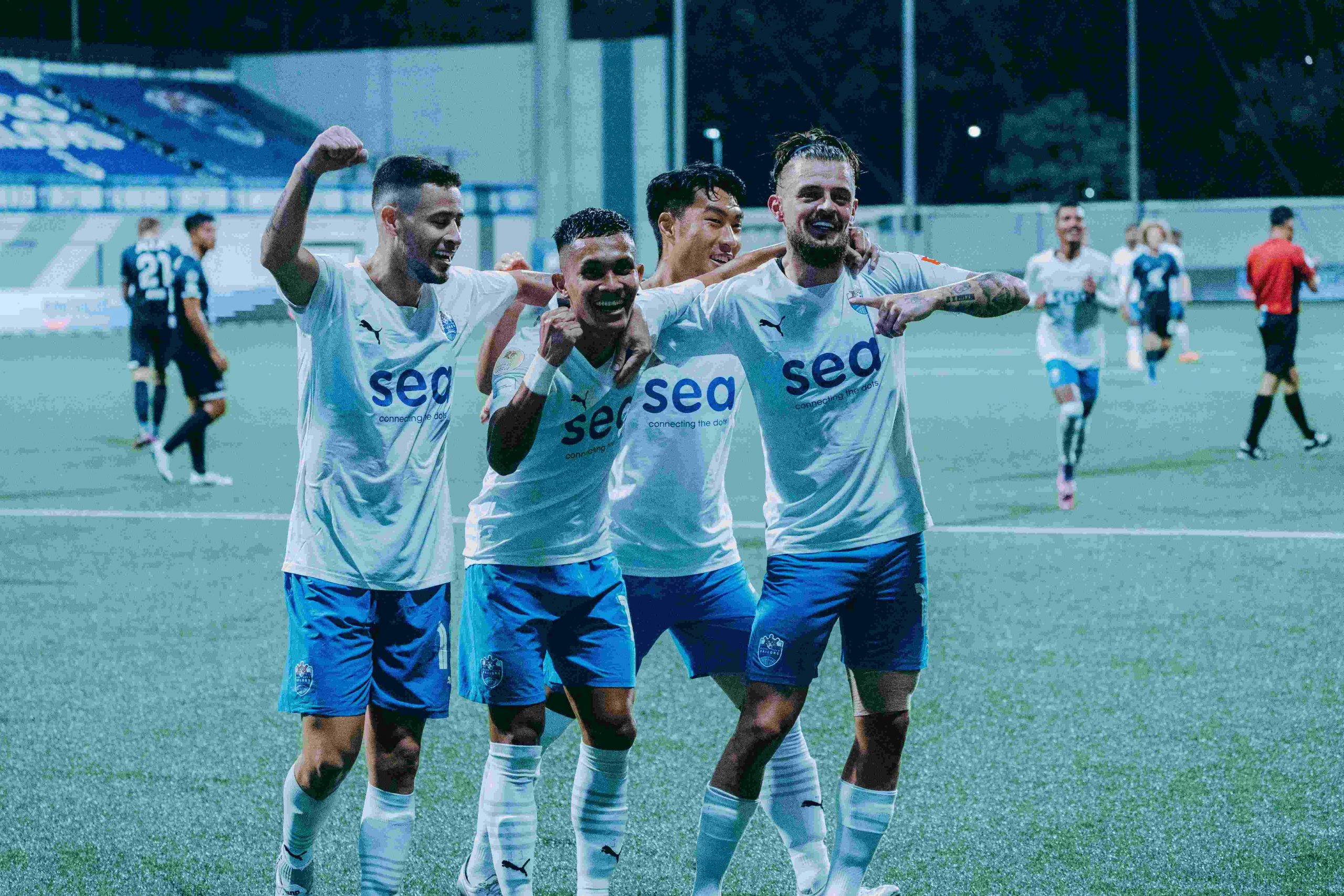 "I've been working hard on my physical condition, putting in sprints after training and doing gym with (Sailors' Head of Performance) Mario (Jovanovic) for upper body strengthening. I also started changing my diet last season with the help of a nutritionist arranged for by the club," said the former Rio Ave man, who has now started the last five games after initial difficulties in holding down a first eleven spot under Kim Do-hoon. 
"Now I'm beginning to see the results – I'm stronger and fitter this season. The help from our medical department and trust by Coach also gives me a lot of confidence, so you can see I'm enjoying myself a lot more on the pitch."
Just eight minutes in, Diego made his mark in the top-of-the-table clash by ghosting in to meet Iqram Rifqi's deep cross and arch a brilliant header beyond Zharfan Rohaizad. 
"This was one of my best matches, but the whole team played well, and I think it comes down to the hard work that we all have been putting in training sessions," added Diego.
"This positive result will only encourage us as we go on to play in the ACL."
This was the final game before embarking on their ACL adventure, but the Sailors showed that there is no letting up in terms of desire and intensity, with M. Anumanthan shutting down the threat of Jaguars' influential playmaker Mirko Šugić, and the Sailors winning the majority of second balls.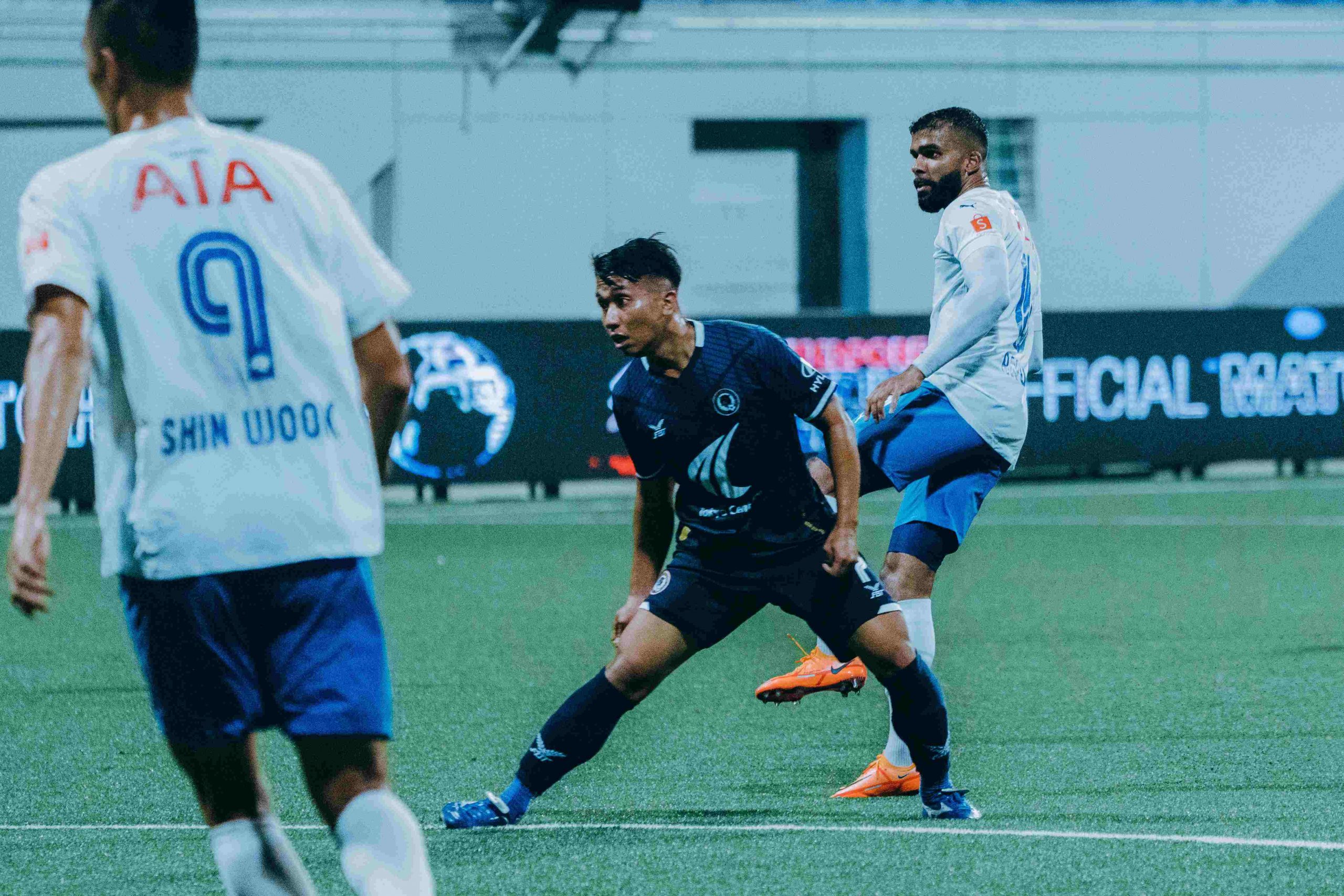 Kim's men would double their advantage in the 28th minute through a brilliant team move from back to front, with Diego striding onto Gabriel Quak's slide-rule pass before firing in between Daniel Bennett's legs into the bottom left corner. 
The Brazilian continued to pull the strings from the middle of the park and it was his visionary ball over the top that led to Shahdan slotting home the Sailors' third five minutes later. 
The Sailors were relentless and could have gotten more goals before half time, but Diego was agonisingly denied a hat-trick when his attempt to hook the ball over Zharfan was hacked off the line before Anaqi Ismit struck the bar. 
Maxime then came on for Anaqi at the break and he would make an instant impact 40 seconds after coming on. The Belgian got onto the end of Tajeli Salamat's low cross before squaring across goal for Shin-wook to make it four from close range.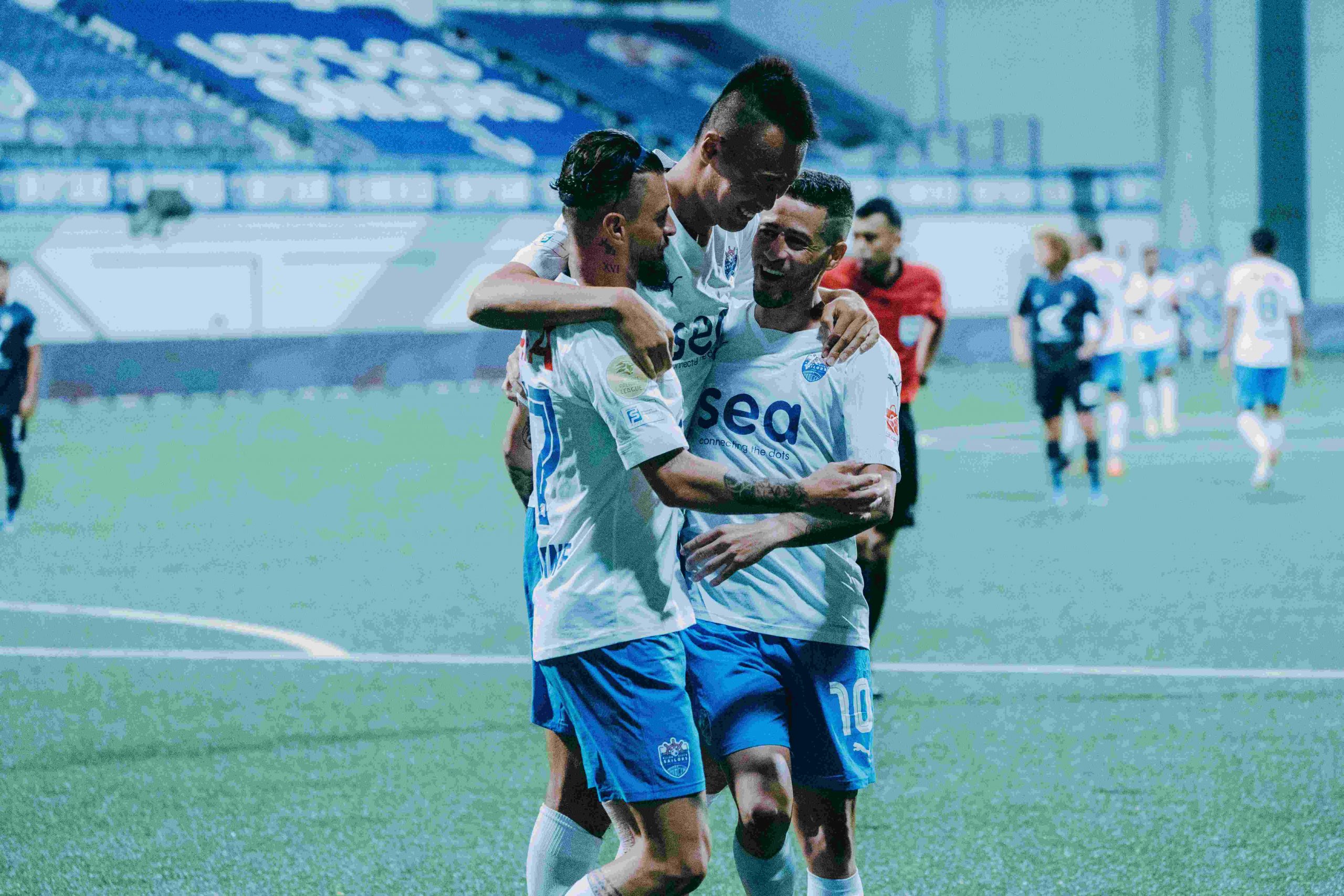 The Sailors' defence was finally breached in the 71st minute – conceding their first goal after 296 minutes of football – when Pedro Henrique inadvertently diverted Rusyadi Salime's free-kick past Izwan Mahbud. 
However, the four-goal advantage was restored almost immediately with Hafiz applying the finishing touch on another excellent Maxime cross – this just nine minutes after the Singapore international came on for Gabriel. 
Maxime put the icing on the Sailors' cake in the final minute of regulation time, feinting past two Jaguars defenders before producing a fanciful finish into an empty net for his maiden goal for the club. 
It was a result and display to savour, with Head Coach Kim expressing utmost satisfaction as the Sailors now lead the table by four points.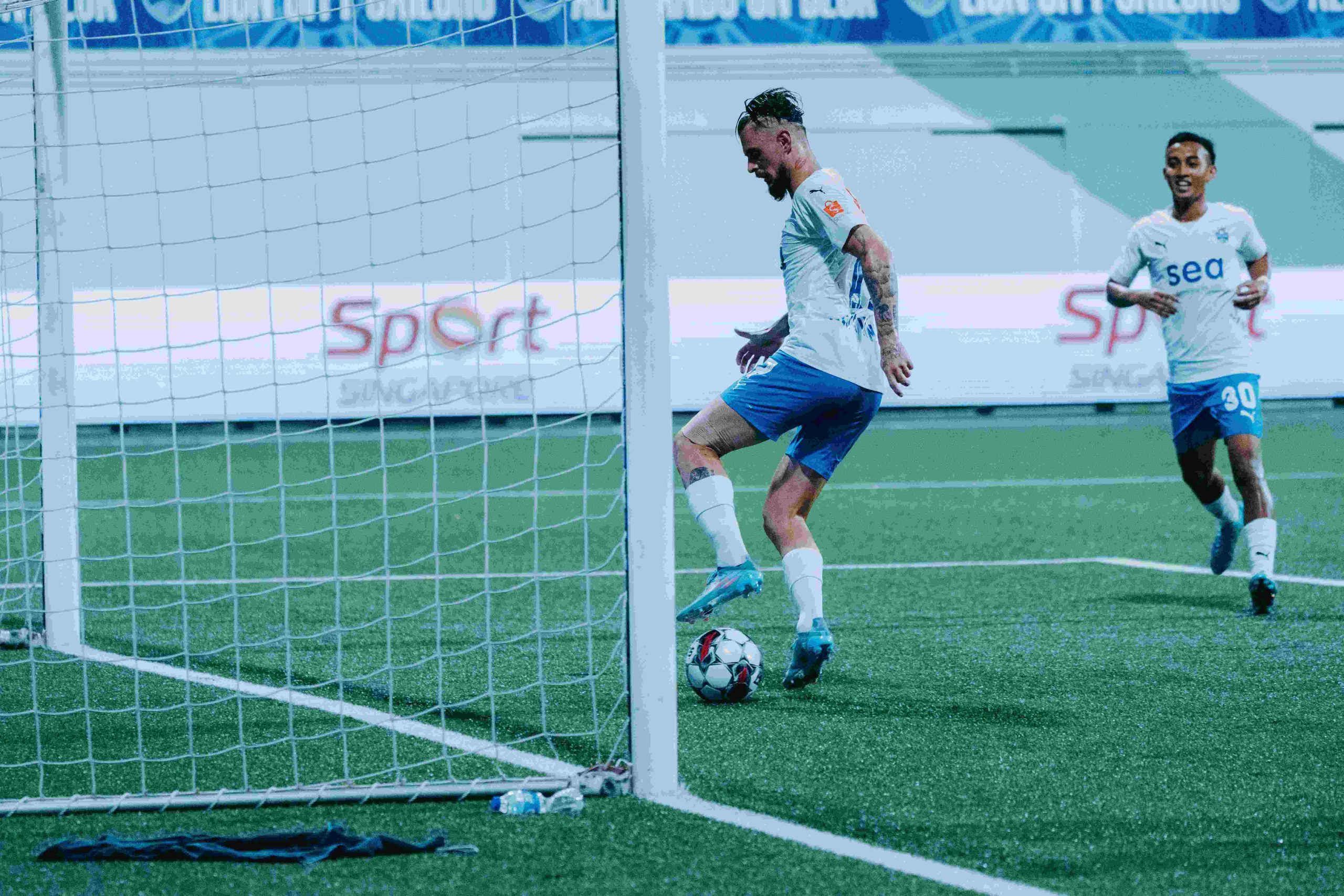 "We did concede a goal and that was a bit disappointing, but we were close to perfect in this match. We displayed our football and were on top. We're just very happy that we put on a good show for the fans before we fly off to Buriram," said the former Ulsan Hyundai man. 
"We have to continue this good momentum in the ACL and we want to represent Singapore well in this competition. The key is to recover and adapt well once we're over there."
Their maiden Asian Football Confederation (AFC) Champions League (ACL) campaign in Buriram, Thailand, is on the horizon, but there is still one last domestic hurdle – a significant one – to overcome. The Lion City Sailors take on high-flying Tanjong Pagar United in a top-of-the-table Singapore Premier League (SPL) clash on Saturday night (9 April). 
One point behind the Sailors, the Jaguars are second in the eight-team SPL standings. They are the only remaining unbeaten side this season with three wins and three draws, and their 16 goals is the most of any team in the league. 
Sailors' goalkeeper Hassan Sunny knows that his side needs to bring their A-game to dish out a first league defeat for the visitors in 2022. 
"Tanjong Pagar is the most in-form team right now and they will take the fight to us – just like the other sides that we've faced. We've to match their desire and aggression to get the three points that we need," said the Singapore national custodian.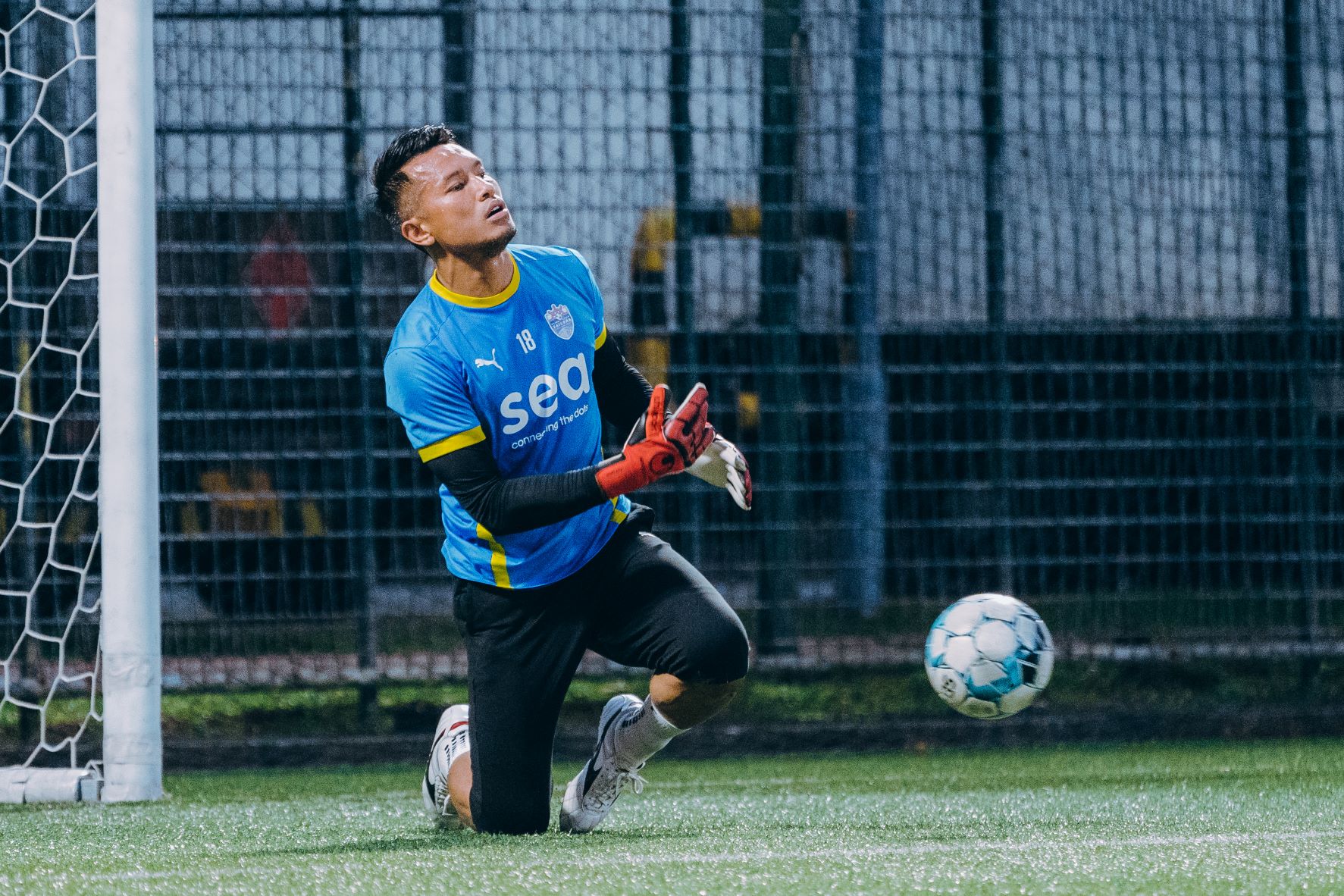 Coming off the back of an unconvincing but important 1-0 victory over Young Lions on Wednesday (6 April), Hassan knows there is a need for the Sailors to improve and put in a more cohesive display in this coming match.
"We knew this – that every team will go out there to try and beat us this season – and that clearly showed against the Young Lions. We were second-best for 60 minutes and struggled towards the end of the game. The onus is on us to adjust what went wrong; we need to make fewer mistakes and work on improving certain aspects of our game against Tanjong Pagar," said the 38-year-old. 
But there has been some improvement in key areas. Hassan and the team are on a good streak – they have kept three clean sheets in their last four outings and achieved back-to-back shutouts for the first time since November 2020. Coupled with his appearance for the Lions in a 2-0 win over Philippines in the recent FAS Tri-Nations Series, Hassan has personally gone three straight games without conceding a goal. 
The veteran, who made his professional debut in 2003, understands the value of a clean sheet and is keen to attribute the positive run to the improving Sailors' defensive unit.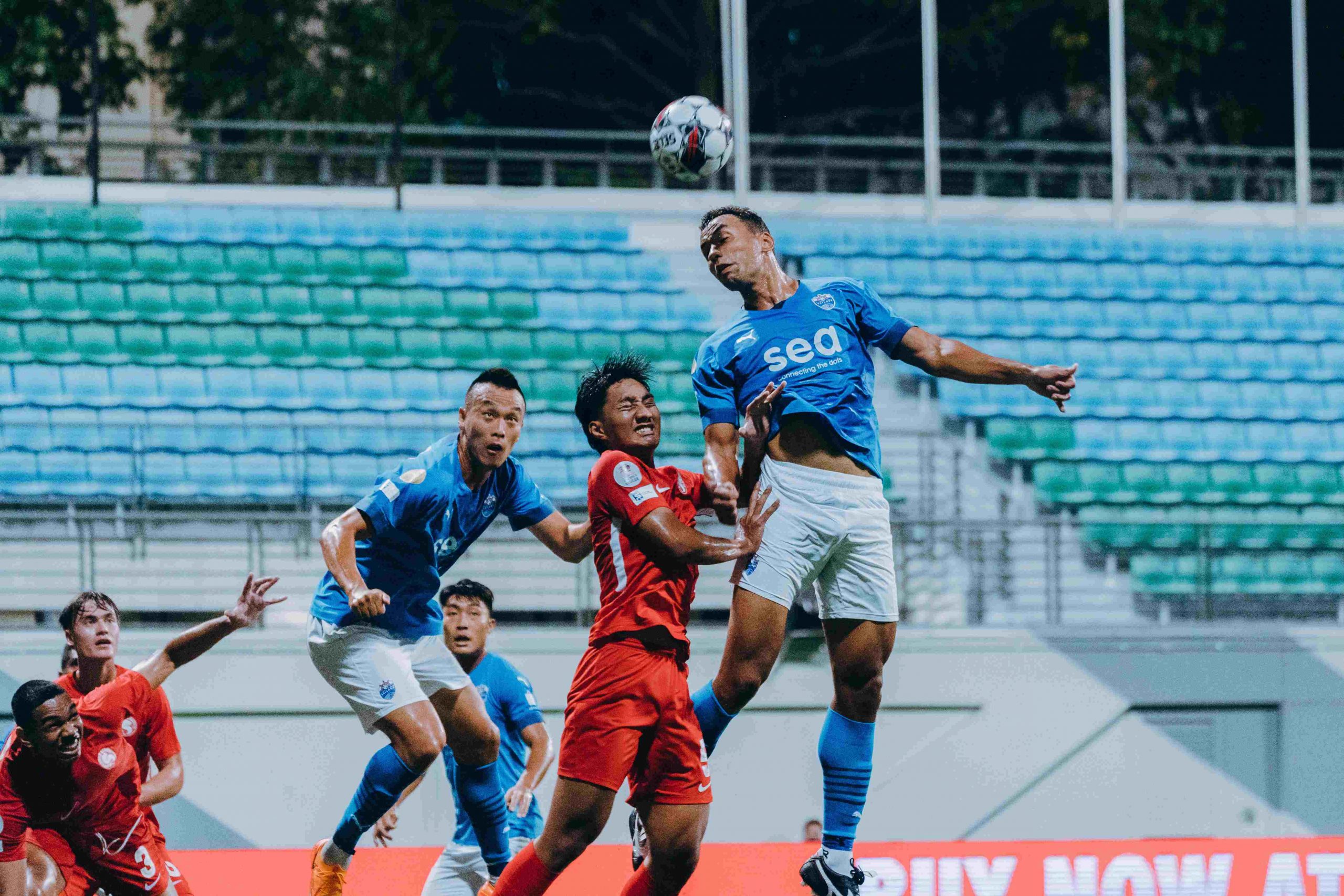 "I can't do everything by myself. I count myself fortunate to have a good pair of centre-backs with Hariss (Harun) and Pedro (Henrique) in front of me, they give us a lot of confidence at the back," said Hassan. "It's satisfying of course because sometimes we can play well for 90 minutes, but if we lose that bit of concentration in injury time, then the clean sheet is gone. 
"For myself, it is really important to keep clean sheets and maintain my level of performance. I've said before: at my age if I don't perform, people are going to say it's time for me to retire. So I have to go out there and prove myself consistently."
The Tanjong Pagar game sets up an interesting reunion with a familiar face in Aqhari Abdullah – who left for the Jaguars after being part of the Sailors' title-winning squad in 2021 – and Hassan is pleased to see the 30-year-old enjoying a new lease of life with his new employers. 
"We all know Apek's professionalism as a player – he doesn't complain much even during hard training sessions. To be honest, I'm disappointed not to have him around this season, but at the same time it's just really nice to see him happy and enjoying his football again," he said.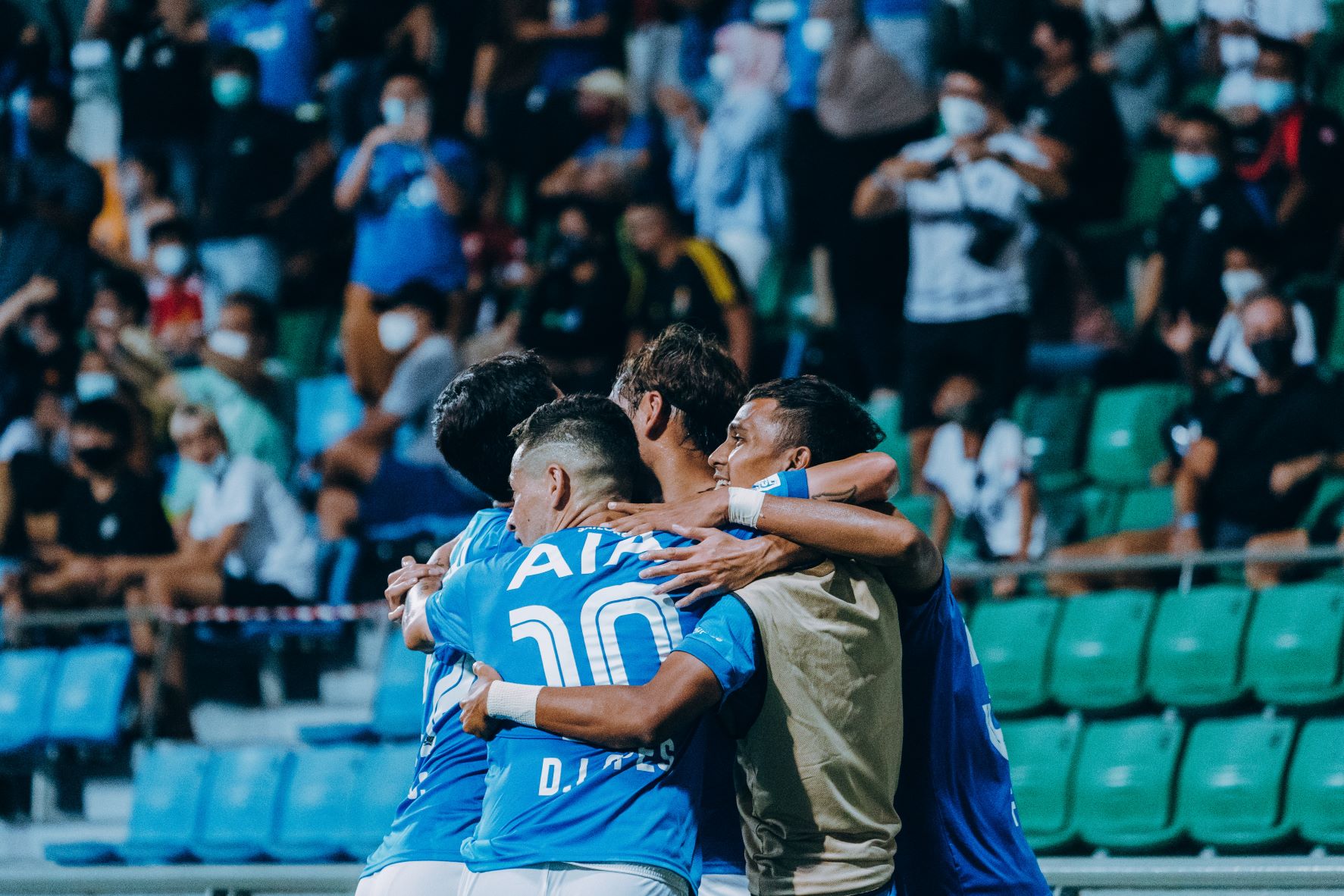 This is the final game before the Sailors fly off for the ACL, and Hassan is hopeful of seeing a healthy crowd turn up at Jalan Besar to be the Sailors' 12th man. 
"I know some fans will be flying to Thailand, but some of them will be staying home and probably catching us on TV. Hopefully every one of them will come down to pack the stadium and give us the chance for us to give the fans something to cheer about before we travel."
It was not the most fluent of displays by the defending Singapore Premier League (SPL) champions, but the Lion City Sailors did enough to grind out a crucial 1-0 win over Young Lions on Wednesday night (6 April) at the Jalan Besar Stadium. 
The result sees Kim Do-hoon's men finish Matchweek 7 top of the eight-team SPL standings for the first time since the opening weekend of the season, following Tanjong Pagar United's 3-3 draw with Tampines Rovers in a concurrent match at Our Tampines Hub. 
Gabriel Quak's 15th minute goal proved to be the decider, but Shahdan Sulaiman acknowledged the need to produce a more cohesive display in the upcoming matches.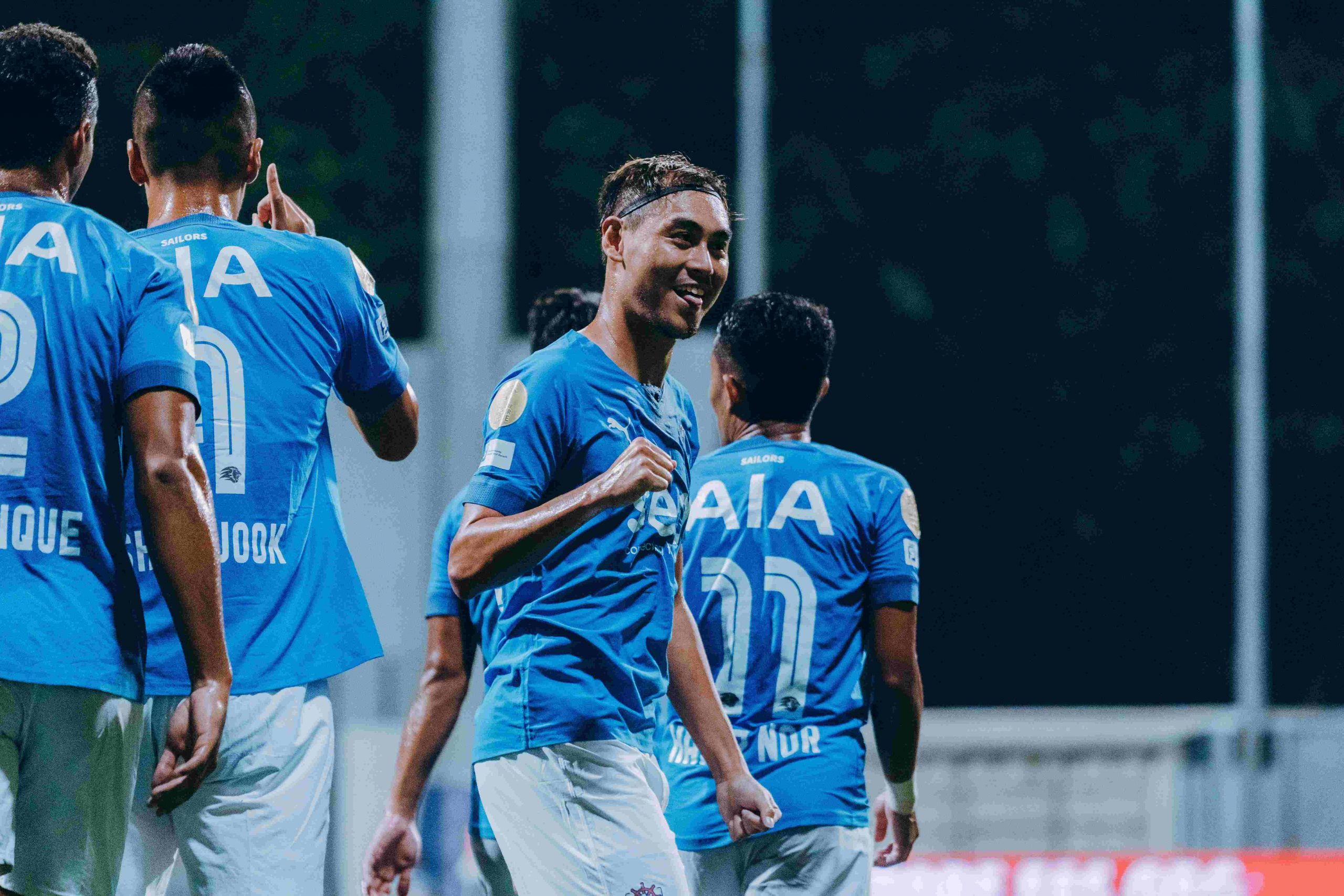 "Credit goes to the Young Lions – they stuck to their game plan and they knew how they wanted to play to stop us," said the 33-year-old midfield lynchpin.
"We didn't play as well as we wanted to – our game management could have been better and leading by that solitary goal for so long created pressure for ourselves. We have to look at ourselves and ensure that we're not in this position again."
Even though the Sailors did not hit top gear, there were positives to be drawn. This was the Sailors' third clean sheet in their last four outings – back-to-back shutouts for the first time since November 2020 – showcasing the improved defensive solidarity and overall compactness.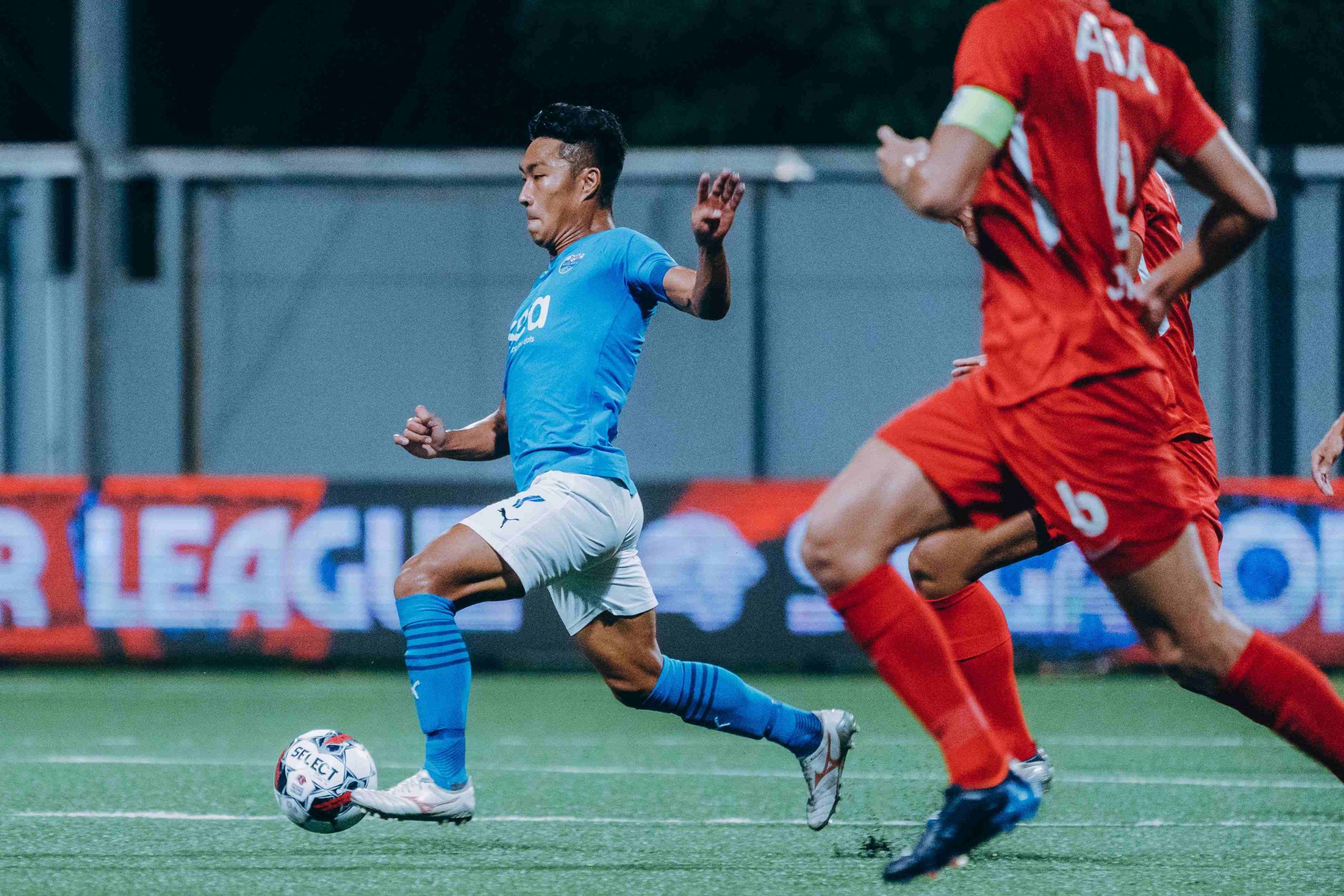 Three-time SPL winner Shahdan knows better than most the importance of grinding out victories in a long league season. 
"But we came away with the three points and we're top of the table now, and that's a good place to be. For us, the focus is on getting as many points as we can before we fly off for the ACL (Asian Football Confederation Champions League)," he noted. 
Head Coach Kim made just one change to the lineup that started the 4-0 thrashing of Balestier Khalsa five days ago, with Hafiz Nor coming in for Maxime Lestienne on the left flank. 
The Sailors settled into their rhythm early and almost scored after just four minutes, with Shahdan playing a quick one-two with Kim Shin-wook after winning the ball in the attacking third, but saw his resulting shot tipped onto the post by Young Lions goalkeeper Ridhwan Fikri. 
After Hassan Sunny tipped over a Khairin Nadim shot over at the other end, the Sailors went ahead in the 15th minute. Gabriel unleashed a 20-yard daisy-cutter that sneaked into the bottom corner after Song Ui-young's initial shot was blocked by Jacob Mahler. 
That was 31-year-old Gabriel's second goal of the season and he proved to be the Young Lions' slayer again – this was his sixth strike in as many games against them since the Sailors' inception in 2020.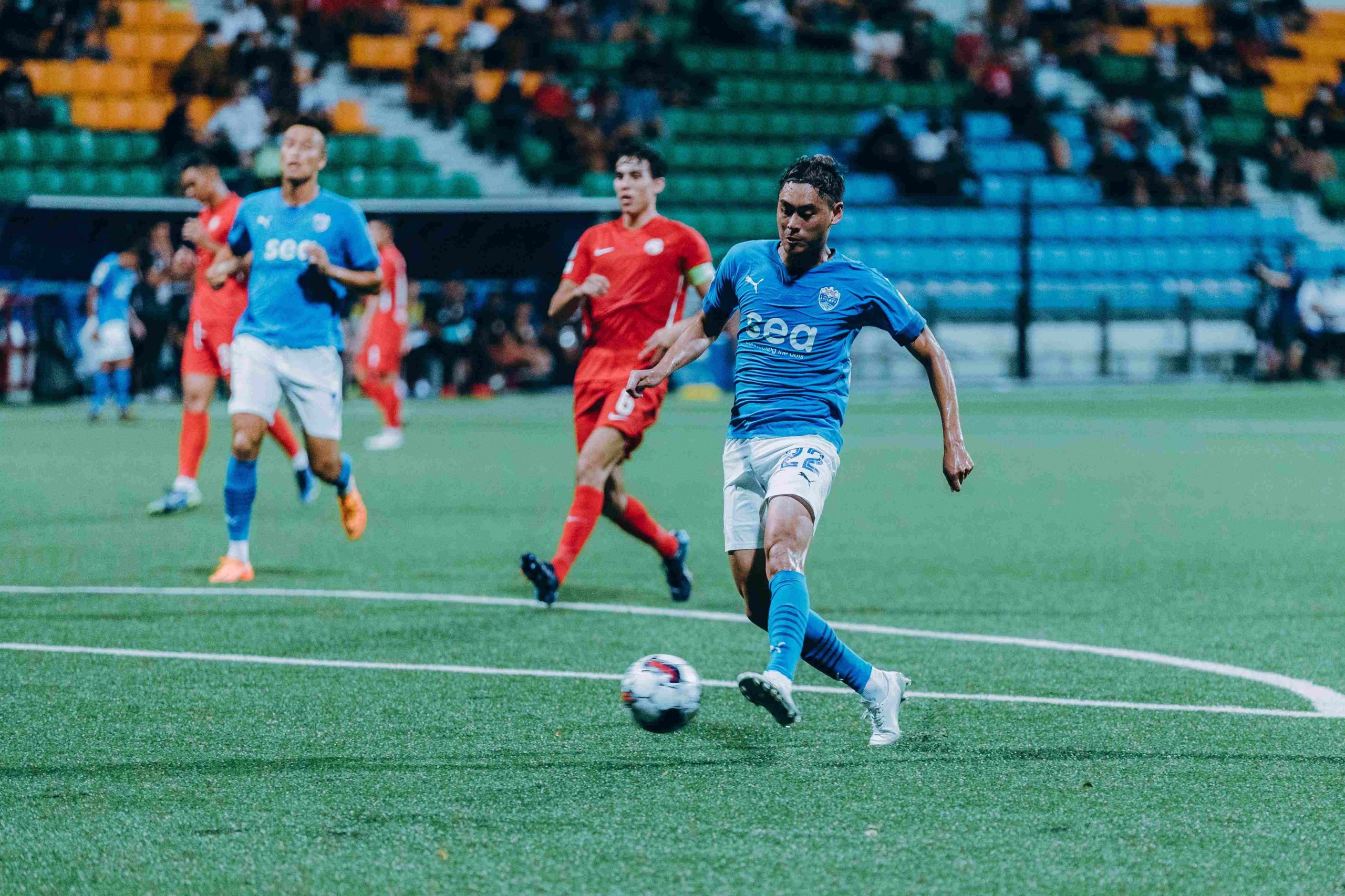 The Young Lions did not let their heads go down after conceding, and instead made life difficult for the Sailors with their back five turning in sturdy defensive performances. Nazri Nasir's boys went close on a few occasions, with Hassan having to get his hands to at least four shots. 
The Sailors were then forced to rejig towards the end of the first half, with Song replaced by Adam Swandi after picking up what appears to be a hamstring injury. That meant Diego Lopes was pushed further up into the no. 10 role, while Hafiz and Gabriel also switched flanks to give some variation in the final third. 
The move brought a bit of an impact with smoother football played after the restart, as Gabriel and Tajeli Salamat going close to doubling the lead. 
Young Lions kept on trying and upped the ante in the final 20 minutes, prompting the Sailors to bring on M. Anumanthan and Amirul Adli to steady the ship. Both men were then involved in a great team move in the 89th minute that should have sealed the three points. 
After Adli had won the ball high up, Anu exchanged passes with Shin-wook before squaring across goal for Diego – who fired against the post from six yards out. 
The Sailors had to keep their heads late on and have Hassan to thank for as he tipped Jacob's half-volley around the post a minute into injury time to preserve the points for the champions. 
Coach Kim's immediate attention turned to the top-of-the-table clash against Tanjong Pagar United this coming Saturday (April 9) and is hopeful that his players recover well for another game in quick succession. 
"All teams are facing this issue so this is not an excuse, but it wasn't easy as this was the first game in the Ramadan period, and we have a tight schedule," said the former Ulsan Hyundai man. 
"The key now is for the boys to get some good rest because the next game will be very challenging. We've to take the confidence from this win and go into the game being very well-prepared."